Kochworld's 2014 Lesson: It's All About Victimhood
The leader of a Koch-backed political group explains what tactics will show up in the 2016 playbook.
By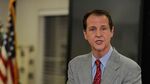 Americans for Prosperity, the advocacy group co-founded by billionaire energy executives Charles and David Koch, spent more than $100 million helping Republican candidates in each of the last two elections–with markedly better results this year than in 2012.  AFP President Tim Phillips took a coffee break Monday in Arlington, Va., to explain what went right and the tactics that will be enhanced and expanded upon for the 2016 presidential campaign. His top takeaways:
Sob stories
Phillips said he admired his opponents' use of "real people" on TV to make the case that Republican policies were causing "out-of-control capitalism." We have victims, too, he thought.
So earlier this year, AFP dropped its economic argument against Obamacare in favor of TV ads with a bit more human drama, spotlighting people who had to drive twice as far to get to a doctor, for instance. Watch for AFP to continue with ads about environmental regulations putting business owners under water and Medicaid expansion causing doctor overload, Phillips said.
"I'm just going to say this, though it probably comes out sounding like a joke: We need to keep taking back victimhood," Phillips said. "The Democrats cannot own that."
Culling candidates  
"When you look at the bad candidates this year, it's the left that had a gang that couldn't shoot straight," Phillips said.
To wit: Bruce Braley clucking over chickens and dissing farmers in Iowa. He lost that Senate seat to Republican Joni Ernst. Colorado Senator Mark Udall picked up the nickname "Mark Uterus" because of his perceived one-note campaign to talk about reproductive rights. He lost his seat to Republican Representative Cory Gardner.
In previous elections, Republicans had the candidates who suffered from foot-in-mouth disease–such as Christine O'Donnell in Delaware and Todd Akin in Missouri.
Although Americans for Prosperity didn't spend money in primary races this year, it takes care to publicize its favorites, Phillips said. That'll continue in the 2016 run-up, with AFP email blasts highlighting Florida Senator Marco Rubio's "positive American dream story" and Kentucky Senator Rand Paul's "winning economic message," Phillips said, naming two potential presidential hopefuls on its watch list.
Ground game
To improve Republican voter outreach, Phillips has been building AFP as a mirror image of the left's labor unions and issues groups. A mix of 550 paid AFP workers and hundreds of volunteers went toe to toe with union activists in Iowa and Wisconsin, Planned Parenthood supporters in Colorado and North Carolina and environmentalists in Florida, Phillips said.
Having seen results this year, AFP will swell its payroll for 2016. "We're just going to have to keep getting bigger," he said.
AFP's money well is deep: The nonprofit can count on huge checks from mystery donors aligned with the Kochs as well as small donations from the thousands of people on its fundraising e-mail list.