Japan Falls into Recession—but (Probably) Escapes a New Tax Increase
By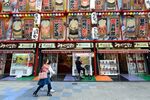 How weak is the Japanese economy? Even the most bearish economist surveyed by Bloomberg was too upbeat. Yoshiki Shinke, the chief economist at Dai-ichi Life Research Institute, had forecast real GDP would expand an annualized 0.8 percent in the third quarter, following a 7.3 percent plunge in the second quarter. Turns out that meager growth forecast was far too optimistic: The Japanese economy actually contracted 1.6 percent.
It's not hard to find the culprit. The weight of the April increase in Japan's consumption tax—from the previous 5 percent to the current 8 percent—has proved harder to overcome than even the bears had feared. "April's sales tax completely destroyed Japan's economy," Shinke told Bloomberg News. "No part of Japan's economy looks encouraging."
That may be why Prime Minister Shinzo Abe's economic adviser, Koichi Hamada, spoke candidly about the GDP numbers at a briefing with reporters today in Tokyo. He likened the economy to a boxer. "The Japanese economy was hit by some body blow, and he is faltering," said Hamada. "He is stepping irregularly right now."
As Japan stumbles, there is some good news: Chances are Abe won't go ahead with a proposal to increase the consumption tax yet again, to 10 percent. Only a week ago, 12 of 15 economists surveyed by Bloomberg said Abe would indeed raise the tax a second time, part of the previous government's plan to reduce the debt burden. (Net debt held by the public is 134 percent of GDP.)
With the economy now officially in a recession, however, and Abe likely to call a snap election next month, many economists expect the tax to stay unchanged. "The second consecutive quarter of negative growth is highly likely to force Prime Minister Abe to postpone plans to increase the consumption tax," Harumi Taguchi, principal economist at IHS Global Insight, wrote in a note today. Or, as Dai-Ichi's Shinke told Bloomberg, "today's data will leave another traumatic memory for Japanese politicians about sales tax hikes."
If that's true, maybe Abenomics has the potential to restore Japanese growth in the year ahead. Jesper Koll, head of Japan strategy at JPMorgan Chase in Tokyo, told Bloomberg Television today the economy suffered this year from wild ups and downs instigated by the tax increase—fast growth in the months before, followed by a steep decline in the months after. Consumers won't have to worry about that now. "No tax hike in 2015 increases the probability that Japan's economy does hit escape velocity—does actually hit a sustained 2-2.5 percent growth path," he said.
Before it's here, it's on the Bloomberg Terminal.
LEARN MORE