Japan Seeks to Strengthen 2015 Growth After Recession Hit
Toru Fujioka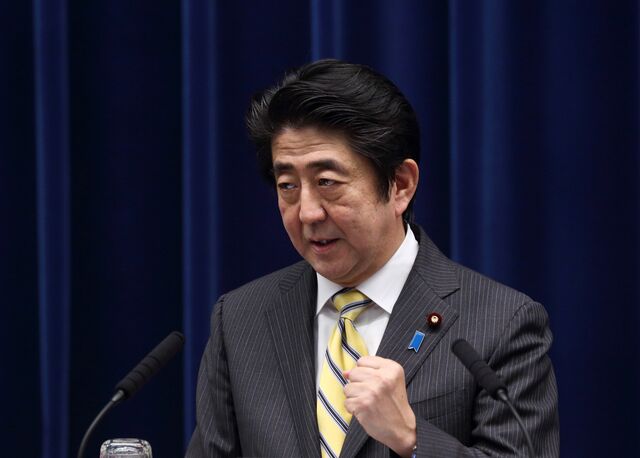 With Japan's slump into its fourth recession since 2008 threatening the failure of the Abenomics reflation program, Prime Minister Shinzo Abe's administration is taking steps to shore up growth for the coming year.
Economy Minister Akira Amari told reporters yesterday in Tokyo there's a high chance of a stimulus package. Etsuro Honda, an adviser to Abe, said a 3 trillion yen ($26 billion) program was appropriate and should go toward measures that directly help households, such as child care support.
Abe, who holds a news conference later today, is also considering a postponement of an October sales-tax increase until 2017 -- a move that would add 0.3 percentage point to growth in the coming fiscal year, according to the median estimate of economists surveyed by Bloomberg. At stake for the prime minister is assuring re-election in a likely snap vote next month that may serve as a referendum on his policies.
"Household sentiment should be relaxed thanks to the delay in another VAT hike, helping improve spending attitude and facilitate consumption recovery," Kazuhiko Ogata, chief Japan economist at Credit Agricole SA in Tokyo, wrote in a note to clients yesterday, referring to the sales, or value-added, tax. "If Abe's Liberal Democratic Party wins in the election, 'Abenomics' would be set" to be sustained until as long as until 2018, when he would run up against term limits as LDP head, according to Ogata.
Abenomics Assessment
Less than two years into Abenomics -- a three-pronged strategy to pull Japan out of two decades of stagnation through monetary stimulus, fiscal flexibility and structural deregulation -- the program has yet to spark sustained growth. An April sales-tax rise saw the economy sink into two straight quarters of contraction, a government report showed yesterday.
Abe, 60, has yet to implement growth-strategy items from labor-market liberalization to the securing of a free-trade deal within the U.S.-led Trans-Pacific Partnership talks. Corporate-tax cut discussions have yet to see legislation enacted. In other areas, Abenomics has stirred Japan, achieving the end of 15 years of sustained deflation and spurring focus in the stock market on corporate returns on equity. The Topix index of shares has jumped 83 percent in the past two years.
Fresh from a Group of 20 summit in Australia where leaders pledged to boost growth, Abe returned to Tokyo hours after a government report showed scant sign of a rebound in household spending after a slump in the second quarter. Companies drew down their inventories of unsold goods as they awaited signs of a reawakening in demand, the data showed.
Boxer Downed
"The present situation is like a boxer who is hit and trying to rise," said Koichi Hamada, a retired Yale University professor who has advised Abe on economics. "The reason why Abenomics doesn't look as sound as before is that we added opposite power," he said, referring to the bump in the sales tax in April 2014 to 8 percent from 5 percent.
Abe will meet today with Kozo Yamamoto, a longtime adviser and head of a group in the ruling party that has estimated there will be as much as 4.6 trillion yen of fiscal scope available for stimulus next year.
The prime minister will hold a press conference today, an aide said, asking not to be named as the plans aren't yet public.
Abe is considering postponing the next sales-tax increase, scheduled for October 2015, for 18 months, people familiar with the discussions said last week. The prime minister has the option under current law to cancel the bump if the economy is judged not to be strong enough.
Growth Impact
Government officials are discussing the option of locking in the timing of a delayed increase, removing the flexibility of a postponement over weakness in the economy, according to people familiar with the deliberations.
An agreement on the language of new legislation that would revise the existing consumption-levy law will take time, the people said, asking not to be named as the talks are private.
A delay would boost Japan's growth by 0.3 percentage point in the fiscal year starting in April 2016, based on the median estimate of 12 economists, final results of a Bloomberg News survey conducted yesterday showed. The economy is projected to grow 1.5 percent in the year starting April 2015 and the same in the following 12 months, according to the survey.
The Yamamoto led-group estimates postponing the increase would add about 0.5 percentage point to real, or price-adjusted, economic growth, according to a discussion paper circulated last week.
A corporate-tax cut and structural reforms will help growth, Hamada said yesterday. The government has for months discussed lowering the corporate levy, and Abe has made deregulation a central part of his reflation campaign.
The Abe administration had determined to avoid a repeat of 1997, when then-Prime Minister Ryutaro Hashimoto implemented a consumption-tax boost only to see it contribute to sending the economy into a recession.
Extra Budget
Abe's administration approved a 5.5 trillion yen extra budget in December to help weather April's tax boost to 8 percent from 5 percent.
Bank of Japan policy makers also have been implementing an unprecedentedly large asset-purchase program, under a framework Abe appointee Haruhiko Kuroda unveiled in April 2013. Kuroda led a divided policy board last month in expanding the central bank's plans for enlarging Japan's monetary base.
Even so, GDP shrank 1.6 percent on an annualized basis last quarter from the previous three months, following a 7.3 percent contraction in April-to-June.
Abe yesterday told reporters that the GDP figures weren't good and that he'd decide on the tax after careful analysis.
Before it's here, it's on the Bloomberg Terminal.
LEARN MORE