Hunters in Florida May Soon be Able to Use Silencers
The Florida Fish and Wildlife Commission will decide whether to drop a 57-year-old ban.
By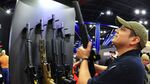 Be very quiet, Floridians could soon be hunting bunny rabbits using silencers. A decades-old ban that prohibits residents of the Sunshine State from using noise-reducing devices on guns while hunting animals other than feral hogs and armadillos could be lifted this week, the Palm Beach Post reported. 
Supporters of the proposal argue that silencers would help protect the hearing of hunters, and allow them to hunt in areas closer to residential neighborhoods without disturbing residents, the Post reported. It's that last point that has some Floridians worried. 
"If neighbors don't hear gunshots in the area, how are they going to know to stay out of the way?" Patricia Brigham, the head of the gun-safety committee of the League of Women Voters in Florida told the Sun Sentinel. 
If the Florida Fish and Wildlife Commission, which meets Thursday in Key Largo, allows the use of silencers to hunt all creatures great and small that have been cleared for hunting, the state will join 25 others where noise-suppressing devices have been given the green light.  Outright bans on owning silencers—for hunting purposes or otherwise—have been enacted in nine U.S. states.