Hunters in Florida May Soon be Able to Use Silencers
The Florida Fish and Wildlife Commission will decide whether to drop a 57-year-old ban.
By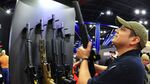 Be very quiet, Floridians could soon be hunting bunny rabbits using silencers. A decades-old ban that prohibits residents of the Sunshine State from using noise-reducing devices on guns while hunting animals other than feral hogs and armadillos could be lifted this week, the Palm Beach Post reported.