Weekends in Hong Kong are Dedicated to Protests
Christina Larson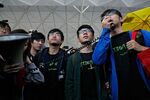 On Saturday, three student leaders of Hong Kong's democracy movement attempted to fly to Beijing to seek meetings with Chinese government officials. Instead, the airline, Cathay Pacific, informed them at the airport that their travel permits, which allow Hong Kong residents to visit mainland China without applying for visas, had been canceled.
"A boy wants to go back to his motherland, but he is refused. Why? How can this make us love China?" Alex Chow, a 24-year-old leader of the Hong Kong Federation of Students, told a few thousand supporters on Saturday night. He was standing on a makeshift stage below a highway underpass in the city's Admiralty district. A banner behind him read, "We are made in HK, made for HK. HK exports values & virtues." The audience, including many activists who have been camping here for six weeks, was lively but polite.
Weekends are the busiest time at the Umbrella movement's largest protest site. There are currently about 2,000 pitched tents, according to a volunteer census organized by students, but many occupants leave to go about their regular lives during weekdays, returning in the evenings or on weekends to hear nightly speeches by Chow and other movement leaders, reminding them what they're fighting for.
"We now want to control our own future," Jenny Woo, a 50-year-old architect told me on Saturday. "Hong Kong people have been asleep for too long," She proudly showed me the protest site's free supply stations, stocked with food, water, and toiletries donated by members of the community. She asked earnestly about the history of America's civil rights movement—who had joined the bus boycotts and sit-ins, and how long these campaigns had lasted.
"Can you hear what he's saying? My hearing aid isn't working," said an elderly man while Chow was speaking. When I started to recap highlights, he shrugged that it wasn't necessary. "It's not about the hearing; it's about the support." While most of the speakers that night were young, the crowd itself was varied in age and included professors, architects, and foreign artists. Many who came out, like the old man, weren't actually pitching tents here but still wanted to show their support.
The general public's tolerance, however, for road closures and traffic disruptions is waning. A new poll released over the weekend by the Chinese University of Hong Kong showed that, for the first time, more Hong Kongers opposed the main tactic of the democracy protest—that is, occupying streets with tents—than supported it. That's not the same as withdrawing support from the main goal of the protest: advocating universal suffrage, or the right to elect Hong Kong's chief executive without Beijing first vetting a limited number of candidates.
On Monday, Hong Kong government issued a statement that bailiffs may begin to clear protestors from the Admiralty site this week. No official declarations have been made about the fate of the other two protest sites in the city, in the Mong Kok and Causeway Bay neighborhoods. Whether Hong Kong's protest sites are forcibly cleared soon—and whether that process unfolds peacefully or turns violent—remains an open question.
What is clear, however, is that the legacy of the Hong Kong's democracy movement won't simply be swept away because the streets are clear. Abraham Lai, a 34-year-old museum curator and protestor, has been staying at the Admiralty site for roughly five weeks. He says the seeds of his own social activism were planted in college; several of his favorite professors had been involved in Hong Kong's 1980s democracy protests, then directed at the British colonial administration. (That activist legacy isn't present in mainland China, where leaders of the 1989 protests were forced into exile and not allowed to take up academic posts.) "This movement has politicized the people in Hong Kong, whether they support yellow ribbons or blue ribbons," Lai said, referring to symbols of the protestors and supporters of the status quo.
Hong Kong's Umbrella Revolution will have a profound and lasting impact on the city's collective consciousness, even if the immediate aim of universal suffrage isn't achieved, says Jeffrey Wasserstrom, Chancellor's Professor of History at the University of California, Irvine, and author of China in the 21st Century: What Everyone Needs to Know. "There are many other examples in the history of social movements or struggles, even when failing to achieve their stated goals," he says, that campaigns "add new elements to local, national, or international repertoires for action and help to inspire by example."
Lam Lun Pik, a student in communications at Centennial College in Hong Kong, was sitting on Saturday afternoon within the Admiralty site's dedicated study area, which allows students to keep up with classwork while participating in protests. She was busy preparing for a Monday quiz but more than happy to pause to explain her reasons for joining the demonstrations. "I'm fighting for a lot of things—for a true democracy, a better economy, and for our future," she said. "This is our generation. I don't know what will happen, but I don't think we'll forget."
Before it's here, it's on the Bloomberg Terminal.
LEARN MORE