Has Anyone Seen President Obama's Veto Pen?
He may need to make sure it still works as Republicans take over control of Congress.
By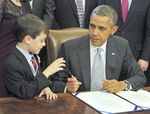 With the Senate reportedly a single vote away from approving authorization for the Keystone pipeline, top Democrats are shrugging it off saying President Barack Obama would probably veto the measure. But someone on the White House staff may have to remind the president how to do that.
Obama has vetoed just two bills during his first six years in office, the fewest of any president since James A. Garfield, who didn't veto any bills before he was assassinated in 1881 after less than one year in office.
He hasn't rejected many bills in part because historically unproductive lawmakers at the Capitol haven't sent him all that many bills in total. He's also served the past six years alongside a Democratic-controlled Senate, which has stopped most Republican legislation for him. With Republicans taking over both chambers starting next year, we may see Obama start to pad his veto stats.
Until then, here are the two measures the president has eradicated by invoking his constitutional powers:
Dec. 30, 2009: Obama vetoed his first bill while on vacation with his family in Hawaii, axing a stopgap spending measure for the Defense Department that Congress passed as a backup plan. The bill was unnecessary because lawmakers actually managed to pass an appropriations bill.
Oct. 8, 2010: His second veto was aimed at legislation that critics said would have eased the way for banks to process home foreclosures. The measure was intended to fix problems faced by notaries working in the court system. But timing is everything. By the time it got to Obama's desk, it was tainted by the housing crisis.