Has Anyone Seen President Obama's Veto Pen?
He may need to make sure it still works as Republicans take over control of Congress.
By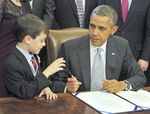 With the Senate reportedly a single vote away from approving authorization for the Keystone pipeline, top Democrats are shrugging it off saying President Barack Obama would probably veto the measure. But someone on the White House staff may have to remind the president how to do that.