Gay Marriage Could Happen in Mississippi Very Soon
A federal judge appointed by President Obama could decide this week whether to issue an injunction blocking the state's ban on same-sex unions.
By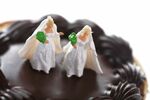 Gay marriage could soon be coming to the Deep South. A federal judge appointed by President Obama will decide as early as this week whether same sex couples in the state of Mississippi can legally wed. 
U.S. District Judge Carlton Reeves heard five hours of testimony on Wednesday on question whether to issue a preliminary injunction to halt the state's same-sex marriage ban, which was signed into law in 1997. Voters in Mississippi also passed a constitutional amendment against gay marriage in 2004, but court observers believe it unlikely that Reeves will allow the ban on stand. 
"Not a single Clinton- or Obama-appointed judge has ruled in favor of marriage laws since U.S. v. Windsor," John Eastman, chairman of the anti-gay marriage group National Organization for Marriage, told the Clarion-Ledger.  "I'd be surprised if Reeves became the first one."
In U.S. v. Windsor, the Supreme Court ruled the federal Defense of Marriage Act unconstitutional. Gay marriage is now legal in 33 states. 
Reeves said he would issue his ruling "as soon as possible."  
"He might have already started writing his opinion and just had wanted to see what the people said in court," Carl Tobias, law professor at the University of Richmond in Virginia, told the Clarion-Ledger. "I'd be surprised if it went more than a week."
If Reeves issues the injunction, Mississippi will  likely ask the 5th Circuit Court of Appeals for a stay, effectively halting gay couples from being able to marry yet again.
During last week's testimony, attorney Pieter Teeuwissen, who was arguing in favor of the ban, joked about what some might consider the improbability of same-sex unions going forward in such a conservative state. 
"A court in Mississippi would seriously consider same-sex marriage, it would be a cold day ..." Teeuwissen said, his words trailing off.  Reeves didn't miss a beat, however, adding his own telling punch line. 
"It's supposed to be even colder tomorrow," Reeves responded, the Hattiesburg American reported.