DEA Investigates NFL Teams for Improperly Prescribing Medication
Del Quentin Wilber and Michael Sillup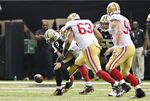 Drug Enforcement Administration investigators inspected equipment and questioned medical staff of several National Football League teams after games today, seeking evidence of improper dispensing of prescription drugs, according to a person familiar with the investigation.
The investigators, working in concert with the Transportation Security Administration, conducted the searches as the teams were heading for airports following their games, the person said.
As many as seven NFL teams are being inspected, the person said.
NFL spokesman Brian McCarthy confirmed that the DEA conducted inspections of the San Francisco 49ers and the Tampa Bay Buccaneers. The 49ers played the New York Giants at their stadium in New Jersey and the Bucs played the Redskins near Washington.
"We have no information to indicate that irregularities were found," McCarthy said in an e-mail.
Other teams that may be inspected are the Oakland Raiders, Minnesota Vikings, Cincinnati Bengals, Detroit Lions and Seattle Seahawks, the person said.
In a lawsuit filed in May, former professional athletes accused the NFL of pushing players to take narcotics that masked serious injuries and turned some players into addicts. The DEA probe was sparked by that lawsuit, the person said.
(An earlier version of this story corrected opponents in today's games.)