Citigroup Said to Favor Sumitomo Mitsui to Buy Japan Bank
Takahiko Hyuga and Takako Taniguchi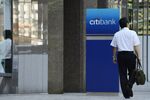 Citigroup Inc. plans to give Sumitomo Mitsui Financial Group Inc. the right of first refusal this month to buy its Japanese consumer-banking business, said people with knowledge of the matter.
Sumitomo Mitsui's lending arm is in talks with Citigroup to purchase the retail bank for about 40 billion yen ($345 million) to 50 billion yen, said the people, who asked not to be named because the discussions are private. Sumitomo Mitsui Banking Corp. would retain all of Citigroup's retail bank staff and branches in Japan, the people said.
Citigroup is seeking to complete the transaction by the end of the year, while it may delay the sale of its local credit-card operations until 2015, the people said. Sumitomo Mitsui Trust Holdings Inc. is in talks with Citigroup to purchase the card business, which owns the Diners Club brand in Japan, the people said. Some other Japanese card companies are also interested in the credit operation, they said.
Citigroup is exiting 11 consumer-banking markets with poor returns, including Japan, where it wants to focus on corporate and investment banking, markets and transaction services, the New York-based bank said in October. Tokyo-based Sumitomo Mitsui is interested in expanding its business for wealthy individual clients through the banking deal, the people said.
Elisa Fukui, a spokeswoman for Citigroup in Tokyo, declined to comment. Tomoyuki Narita, a spokesman at Sumitomo Mitsui, also declined to comment, as did Sumitomo Mitsui Trust's spokesman Hiroshi Kashimoto.
Private Banking
Sumitomo Mitsui, Japan's second-biggest bank by market value, said in July last year that it agreed to purchase Societe Generale SA's private-banking unit in the country. The Japanese lender formed a private-banking venture with Barclays Plc for affluent clients in 2010.
Citigroup opened a branch in Yokohama in 1902 and Tokyo in 1923. Citibank Japan Ltd., which employs about 1,800 people, had 32 retail branches in the country as of last month.
The Japanese unit earned 1.34 billion yen in the year ended March, returning to profit from a net loss of 1.98 billion yen a year earlier, financial statements on its website show. It had 3.9 trillion yen in deposits as of Sept. 30.
Before it's here, it's on the Bloomberg Terminal.
LEARN MORE