Christie Walks Through Halls of Congress, Doesn't Rip Anyone
The potential presidential candidate tells Republican House freshmen that it's time to unite the country.
By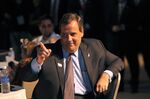 New Jersey Governor Chris Christie hasn't minced words when it comes to Washington. He has said he'd rather off himself than serve in the U.S. Senate. He's lashed out at the "callous indifference" of House Republican leaders after delaying a vote on Hurricane Sandy aid. He's ridiculed the "absolutists" at the Capitol. "This is the stuff, candidly, that drives people crazy about government and crazy about Washington," he said after a clerical error in New Jersey cost his state federal education dollars.
Monday? Not so much.
Christie sauntered into the Capitol with his hands in his pockets and then was full of optimism and hope during a private, hour-long speech to incoming House Republican freshmen. Christie pointed to the successes GOP gubernatorial candidates enjoyed in states where President Barack Obama had won–victories he oversaw as head of the Republican Governors Association–and encouraged the new lawmakers to find common ground in the Capitol. 
He "talked about ways to move forward, ways to get the country back working again," said House Majority Leader Kevin McCarthy, who ducked into the meeting at the Capitol. McCarthy added that Christie cited energy policy and tax reform as "things that unite the country."
Christie, who was joined by longtime political adviser and fundraiser Bill Palatucci, received a standing ovation from the freshmen, said Tom MacArthur, a newly elected New Jersey Republican. Christie also stuck around for about 20 minutes  to chat. "He was here honoring the work that we do and he was very well received," MacArthur told reporters after the lunch.
"Brilliant," Ryan Zinke, an incoming freshman Republican from Montana, said of Christie's speech. "We have to show leadership and show to the American people that our ideas are worthy of the American electorate."
After bantering in the hallway for a few minutes with the last few Republicans, Christie even acknowledged the reporters shouting questions at him about a potential government shutdown and immigration policy.
"Good to see you all," Christie said. "Thank you very much."