Carney Says Fixed Pay May Be Next Target After Bonus Curbs
Jim Brunsden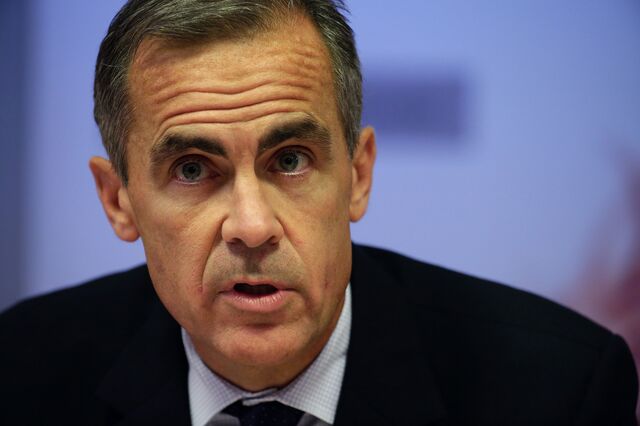 Bank of England Governor Mark Carney said regulators may need to target bankers' fixed pay as well as bonuses to rein in incentives for market abuse and excessive risk-taking.
Carney, who is also chairman of the Financial Stability Board, criticized new European rules that limit bonuses because they "have the undesirable side effect" of making it harder to control a banker's overall pay package.
"This makes the case for additional reforms to ensure that the burden of excessive risk-taking and misconduct by staff can still be borne by those staff," Carney said in a speech in Singapore today. "Standards may need to be developed to put non-bonus or fixed pay at risk. That could potentially be achieved through payment in instruments other than cash."
Carney's warning of a further regulatory crackdown on pay comes a week after six banks including U.K.-based Royal Bank of Scotland Group Plc and HSBC Holdings Plc were fined $4.3 billion as part of a global probe into rigging of foreign-exchange benchmarks. The U.K. Financial Conduct Authority has said that it will press banks that were fined to review bonuses and claw back payments already made.
Banks have faced a sustained crackdown on bonus policy from regulators since the 2008 financial crisis -- in response both to market-manipulation scandals and public bailouts.
'Elegant Solution'
EU lawmakers last year adopted a ban on bonuses of more than twice fixed pay in a bid to tackle what they called a gambling culture blamed for fueling the turmoil. While the U.K. government has sued to overturn that measure, arguing that the move is counterproductive and oversteps limits on EU powers, British regulators have pursued other steps to rein in pay.
The European Banking Authority last month moved to close a loophole that allows banks to sidestep the EU bonus cap by awarding staff payments under different measures. Thirty-nine banks are paying staff discretionary role-based payments they classify as fixed pay, breaking bonus rules, it said.
A proposal from William C. Dudley, president of the Federal Reserve Bank of New York, for certain staff to be paid partly in performance bonds "is worthy of investigation as a potentially elegant solution" for targeting fixed pay, Carney said. "Senior manager accountability and new compensation structures will help to rebuild trust in financial institutions."
New curbs would build on top of existing pay rules put in place by regulators, which require payment of bonuses to be deferred for several years, while allowing banks and regulators to retroactively cut and recoup variable pay.
"We are consulting on extending deferral periods, widening the scope for groups of employees to have their bonuses reduced where there are more pervasive issues of performance or risk management, and considering options to prevent individuals side-stepping these rules," Carney said.
Before it's here, it's on the Bloomberg Terminal.
LEARN MORE