Burkina Faso Names Michel Kafando as Transitional President
Simon Gongo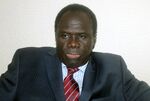 The authorities in Burkina Faso named former Foreign Minister Michel Kafando as transitional president to help return the West African nation to democracy after a military takeover.
Kafando, 72, was appointed early today by a committee of representatives from the army, religious groups and civil-society organizations. He will be inaugurated tomorrow, according to the army. The interim leader will choose a prime minister to select a 25-member cabinet, and won't be eligible to run in elections next year.
Kafando pledged to work to establish "social justice, tolerance and democracy" in a statement handed to journalists in Ouagadougou, the capital. A former ambassador to the United Nations, Kafando was president of the UN Security Council for a year.
Burkina Faso's army took charge when Blaise Compaore fled on Oct. 31 after protests against his bid for another term in office. Regional leaders have been helping to mediate a return to civilian rule in a country that's been used by the U.S. and France as a military hub to gather intelligence on Islamist militants.
The fact the military handed over power to a temporary government to run the country until the next elections indicates the yearlong transition may produce the first credible national vote, Francois Conradie, an analyst with NKC Independent Economists, said today in an e-mailed note.
Political Maturity
The agreement on a civilian-led transition has demonstrated "political maturity" and "marks significant progress," Chairperson of the AU Commission Nkosazana Dlamini-Zuma said today in an e-mailed statement.
Foreign governments and international institutions, including the African Union, are more likely to engage with the civilian leadership, Conradie said.
"We had always considered the danger of military leader Isaac Zida hanging to power," said Conradie. "It's very encouraging that the different actors in the Burkinabe political arena have been able to arrive at a consensus on the name of the interim leader."
The country, one of the world's poorest, is sub-Saharan Africa's second-largest producer of cotton, the main crop in the agricultural-dependent economy, and the fifth-largest gold miner.
Before it's here, it's on the Bloomberg Terminal.
LEARN MORE