Activists Sue Harvard and UNC for Discriminating Against Asian Applicants
By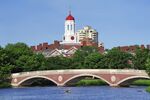 A nonprofit advocacy group is suing administrators at Harvard and the University of North Carolina at Chapel Hill over allegations that the schools illegally limited admissions for qualified Asian American applicants.
The lawsuits were filed today in federal courts in Boston and Greensboro, N.C., by Students for Fair Admissions, a group led by Edward Blum, a retired stockbroker and crusader against the use of race in admissions policies (he was the driving force behind the U.S. Supreme Court case Fisher v. University of Texas, in which a white woman argued she was denied admission based on her race). The group argues that by factoring race into admissions, the two schools' admissions policies unfairly pit Asian applicants against each other. The organization compares Harvard's use of race in admissions with quota systems that universities used to justify limiting admissions to Jewish students in the 1920s, my colleague Christie Smythe at Bloomberg News reports.
Asian candidates "understand that they are not competing" against the entire applicant pool, Students for Fair Admissions alleges in the suit. Rather, "they are competing only against each other, and all other racial and ethnic groups are insulated from competing against high-achieving Asian Americans," the filing said.
It's not illegal for universities to look at race in admissions, but schools have to meet a certain standard to justify doing so. In a decision made last year, the U.S. Supreme Court ruled that schools must be able to show they've tried using "race-neutral means to achieve student body diversity before turning to racial classifications and preferences." Students for Fair Admissions is arguing that Harvard and UNC didn't meet the Supreme Court's standards, which would mean they violated applicants' constitutional rights.
The organization wants courts to bar Harvard and UNC from considering race in undergraduate admissions. Such factors as the socioeconomic backgrounds of applicants could do more to help Harvard and UNC create diverse classes than looking at race, the organization said.
Before it's here, it's on the Bloomberg Terminal.
LEARN MORE