politics
The Republican Wave Missed California
The Republican Party's struggles in California continued in the 2014 election even as it thrived most everywhere else.
By
The Republican wave didn't crash on the shores of the nation's most populous state, apparently.
In the Nov. 4 election, Democrats in California swept all seven partisan statewide offices, led by incumbent Governor Jerry Brown's 60 percent to 40 percent trouncing of Republican Neel Kashkari. And Democrats in the Golden State are likely to see a net gain in U.S. House seats, even as Republicans made double-digit House gains in the rest of the nation in a year when they also won control of the U.S. Senate and added more governorships and state legislative seats.
Democrats narrowly won the San Bernardino County-based 31st District, which had been left open by a retiring Republican. Democratic incumbents Ami Bera of the Sacramento-area 7th District and Jim Costa of the Central Valley-based 16th District have pulled ahead in their still-uncalled races, as election officials finish counting the votes.
If Bera (up 697 votes) and Costa (up 700 votes) maintain their leads, Democrats would win 39 of California's 53 congressional districts, up from 38 in 2012 and 34 in 2010. Republicans last gained House seats in California in the 1998 election.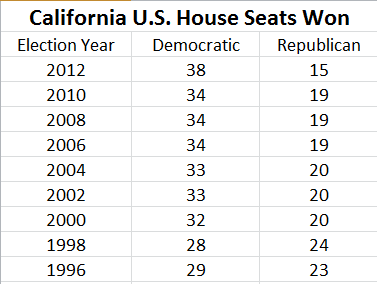 California became a Democratic bastion as it resisted the cultural conservatism of the national Republican Party and as the state became more racially and ethnically diverse. Hispanics in California, 38.4 percent of the state population, are about as numerous as non-Hispanic whites, who make up 39 percent. Asians, who also lean Democratic, account for more than 14 percent of the population in California.
There's no indication that California will be politically competitive in White House contests anytime soon. Republicans can still stitch together wins without California, though its 55 electoral votes in the Democratic column makes the task a bit more difficult. California last voted Republican for president in 1988, when the state voted about two percentage points less Republican than the nation as a whole. That gap grew to 10 points in 2012, when Mitt Romney won 37 percent of the vote in California compared with 47 percent nationwide.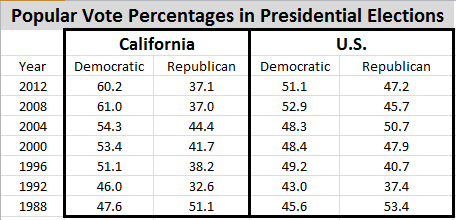 Before it's here, it's on the Bloomberg Terminal.
LEARN MORE