TalkTalk Plans 4G Access With Telefonica Mobile Deal Move
Amy Thomson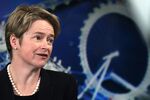 TalkTalk Telecom Group Plc reached an agreement with Telefonica SA's U.K. unit to gain access to a high-speed fourth-generation mobile network enabling the telecommunications company to build up its wireless offering.
TalkTalk is shifting way from a four-year-old agreement with Vodafone Group Plc as the new arrangement also gives it more power to manage the network, Chief Executive Officer Dido Harding said in an interview today. London-based TalkTalk declined to comment on when it will move to Telefonica.
The company, which also offers broadband and pay television, is working to expand the number of mobile-phone customers, who constituted about 9.5 percent of its subscribers as of the end of September. Telecommunications companies are working to sell packages of the three services to discourage customers from switching to another provider and generate higher revenue.
The mobile base "is relatively small, but we do expect it to grow quite rapidly," Harding said. "We've only recently started proactively advertising our mobile proposition."
TalkTalk fell as much as 1.1 percent and was trading down 0.3 percent at 289.4 pence as of 10:35 a.m. in London. The stock has declined 5.4 percent this year, valuing the company at 2.76 billion pounds ($4.32 billion).
Possible Accord
The company is also open to providing TV and broadband service to Madrid-based Telefonica's O2 unit in the U.K., though there aren't any discussions at the moment, Harding said.
TalkTalk began selling mobile services in 2010 through a partnership with Newbury, England-based Vodafone, making it one of the first companies in Britain to offer wireless in a bundle with broadband. Simon Gordon, a spokesman for Vodafone, declined to comment on the new agreement.
The number of TalkTalk's mobile customers at the end of September totaled 348,000, the company said in its fiscal first-half earnings report this month. TalkTalk said in October that it's offering a mobile package that includes a SIM card, 100 minutes of calling time and 200 megabytes of data for free with 35.20-pound-a-month TV deal.
Before it's here, it's on the Bloomberg Terminal.
LEARN MORE