Swedish PM Says Supporting Economy Is Crucial Amid Debt Risk
Amanda Billner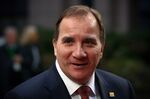 Swedish Prime Minister Stefan Loefven said making sure the economic expansion is on track must take precedence over efforts to cool household debt growth that the central bank has said are urgent.
"There's a risk with too high indebtedness and we see that household debt is increasing," Loefven said in an interview at a conference in Stockholm on Nov. 14. "If we want to fix this, we have to be careful so that we don't choke demand in the economy because then you risk making a bad thing even worse."
Loefven's call for moderation in tackling the debt build-up comes after the Swedish central bank last month lowered its benchmark rate to a record zero to prevent a deflationary spiral from deepening. Policy makers led by Governor Stefan Ingves said the move into uncharted monetary policy made it even more urgent that the government put more measures in place to temper household debt, which has reached record levels.
The financial regulator then this month proposed new rules that would force Swedes to pay down their mortgage loans to 50 percent of their properties' value. Of households with a loan-to-value ratio of 51 to 75 percent, about 60 percent amortize their home loans, according to data from the regulator.
Unemployment Gains
The premier said the plan is "well-balanced" and that Sweden must ensure that young people aren't locked out of the market. Finance Minister Magdalena Andersson has previously said that a mortgage cap that was put in place since 2010 may need to be relaxed if stricter amortization rules are introduced to ensure first-time buyers can access the market.
The new minority government, which won the election in September, has pledged to cut the jobless rate to the lowest in the European Union. The government sees gross domestic product expanding 2.1 percent in 2014, 3 percent in 2015 and 3.2 percent in 2016.
Sweden's seasonally adjusted unemployment rate unexpectedly rose to 8.1 percent in October from a revised 7.8 percent in the previous month, according to the statistics agency.
Like Band-Aid
The central bank governor said on Nov. 11 that the government can't afford to call it quits on tightening access to credit. The new amortization rules were from a financial markets perspective "like putting a band-aid on one corner," he said.
Riksbank Deputy Governor Cecilia Skingsley today said the country should now focus on "stopping the growth in household debt and then we can start figuring out how we can grow ourselves out of the situation."
Last week Ingves also called on the regulator to require Swedish banks to have a leverage ratio of 4 percent by 2016 and 5 percent by 2018. The Swedish Bankers' Association said that would be stricter than demands discussed in the European Union and lead to a competitive disadvantage for Sweden's lenders.
Financial Supervisory Authority Director-General Martin Andersson, speaking to reporters on Nov. 14, shot down the proposal, saying there are "no plans to introduce this ahead of time" and that the watchdog has found a "good balance" with its amortization proposal.
"We can easily create very big problems for the Swedish economy by proceeding with too strict measures," Andersson said. "By choosing new loans and by having a two-step approach we think we have found a good balance."
Building Homes
Loefven has said that one way to tackle the debt issue is to build more homes, which would help cool the property market.
Before winning the election in September, Loefven's Social Democrats pledged 250,000 new homes by 2020. This will partly be achieved by injecting 3 billion kronor ($404 million) into state-owned lender SBAB to finance construction.
While that wasn't included in the 2015 budget, the government is still working on the plan. The capital will be taken from other state-owned companies, Loefven said.
"The thought is that other state-owned companies that have excess liquidity can transfer 3 billion kronor to an isolated part of SBAB, and that SBAB would have a separate business whose aim is to facilitate construction of housing," he said. "SBAB could then together with other financiers who put in additional money create leverage."
Before it's here, it's on the Bloomberg Terminal.
LEARN MORE