Shanghai Stocks Out of Step With World Is Key to Allure
Weiyi Lim and Kana Nishizawa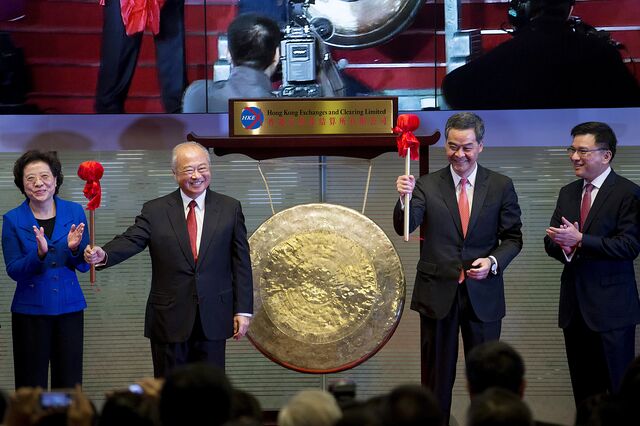 For investors fed up trying to predict how the global economy will influence day-to-day moves in equities, China's $4.2 trillion stock market is the antidote.
The Shanghai Composite Index's indifference to Federal Reserve prognostications, Japan's monetary expansion and fluctuations in global growth is a reason to buy, says Bank Julius Baer & Co. The correlation between the Shanghai gauge and the MSCI All-Country World Index is 0.1, the lowest among major equity markets.
"It is the market of the second-largest economy in the world, and it dances to a domestic China agenda," said Jim O'Neill, the former Goldman Sachs Group Inc. economist who coined the BRIC moniker in 2001 to highlight the rising economic power of Brazil, Russia, India and China. "If you are investing in different things, you want them to be less correlated."
Global investors get a new conduit to China's idiosyncracies today with the debut of the Shanghai-Hong Kong exchange link, which allows a net 23.5 billion yuan ($3.8 billion) of daily cross-border purchases and is one of the nation's most significant steps in opening its capital markets. Individual investors are the price setters in Shanghai and their propensity for technology, consumer and smaller companies has driven up valuations on those stocks, Goldman Sachs says. Buyers need to watch momentum more carefully than in other markets, according to BlackRock Inc.
The daily quota for foreign investors buying mainland shares was used up by 1:57 p.m. local time, triggering a halt in buy orders for the rest of the day. That compared with 17 percent of the quota used for equities in Hong Kong at the close. The Shanghai Composite retreated 0.2 percent, while the Hang Seng Index sank 1.2 percent.
Correlation Comparisons
"Chinese retail investors are less sensitive to U.S. and European factors," said Kelvin Wong, a Hong Kong-based analyst at Bank Julius Baer & Co., which has about $287 billion under management. "They mainly focus on the domestic market or sectors that arouse their interest."
The 120-day correlation of 0.1 between Shanghai's index and the MSCI global gauge at the last close compares with 0.3 for Hong Kong's Hang Seng Index, 0.8 for the Stoxx Europe 600 Index and 0.9 for the Standard & Poor's 500 Index. A level of 1 suggests shares move in lockstep, while zero signals there's no relationship. Because of the restrictions on foreign investment in China, A-shares, as mainland-listed stocks are known, aren't eligible for MSCI indexes.
The Shanghai Composite climbed 3 percent between Sept. 3 and Oct. 16 as the MSCI All-Country World Index tumbled 9.4 percent amid concern about the Fed ending its bond-buying program and the risk of another European recession. The Chinese benchmark remains 59 percent below a 2007 peak, while U.S. shares are posting all-time highs.
Good, Bad
"At various points in the cycle, having low correlation may be a positive or negative," said Helen Zhu, Blackrock's head of China equities. "One thing for sure, though, is that having access to an asset class with particularly low correlation can be an useful tool in diversification of risk."
Investors in A-shares tend to be more momentum and catalyst-driven and less concerned with valuations, Zhu said.
Until today, overseas investors were bound by a more restrictive quota system to buy mainland shares. They needed a Qualified Foreign Institutional Investor license, known as a QFII, or Renminbi Qualified Foreign Institutional Investor license, known as an RQFII, and also had to submit an application to China's State Administration of Foreign Exchange for a specific dollar amount of investment quota to spend on stocks.
Market Access
The equity link bypasses these rules, allowing foreigners to purchase Shanghai shares through their Hong Kong brokers. Eligible mainland companies include those in the SSE 180 Index and SSE 380 Index, as well as dual-listed shares. Chinese institutions and investors with at least 500,000 yuan in their securities accounts are now able to buy stocks in the Hang Seng Composite Large Cap Index and the Hang Seng Composite Mid Cap Index, also a relaxation of previous restrictions.
International investors will receive a temporary waiver on capital gains taxes in China, while mainland individuals get a three-year exemption on their purchases of Hong Kong equities, according to a statement on the Ministry of Finance website after markets closed Nov. 14.
Bank Julius Baer's Wong said he favors investing in Shanghai consumer and healthcare companies that don't have Hong Kong listings as well as large-cap stocks at low valuations. Companies in the SSE180 index trade at 9.4 times estimated earnings, compared with a multiple of 17 on the S&P 500.
Stock Picking
Investors who think they know how to pick H-shares, as Hong Kong-listed Chinese companies are known, will make a mistake if they apply the same strategy to mainland equities, according to Goldman Sachs.
The correlation between returns on A-shares and H-shares in the same industries averages 46 percent, and is as low as 17 percent for information technology shares, analysts led by Kinger Lau wrote in a Nov. 13 report. Retail investors account for 82 percent of mainland turnover and 57 percent of share ownership, meaning they have an outsized influence over prices, according to the brokerage.
"Having the correct market and sector view on H doesn't always mean investors will do equally well in A," the Goldman Sachs analysts wrote.
Economic Slowdown
Investors in either market will have to navigate the fallout from China's broadening economic slowdown, with the nation heading for its slowest full-year expansion since 1990 as policymakers seek to shift away from an export-oriented model. There's a backlog of almost 600 companies seeking mainland initial public offerings, which may weigh on demand for existing shares, Nomura Holdings Inc. wrote last week. Investors also face pre-trade checking procedures that don't exist in other markets.
Baring Asset Management Ltd. and RS Investment Management Co. point to management standards in China as an idiosyncratic risk. The nation's corporate governance ranks ninth out of 11 Asian countries, according to a report released by CLSA Ltd. and the Asian Corporate Governance Association in September.
"Foreign investors would have to do their homework on the companies which they invest in because sometimes the quality of information available in the annual reports of Chinese companies may not be high standard," said Khiem Do, who helps oversee about $60 billion as Hong Kong-based head of Asian multi-asset strategy at Baring Asset.
Stock Gains
Investors aren't balking so far, with anticipation of the link propelling an 18 percent advance in the Shanghai Composite through last week since Premier Li Keqiang unveiled the plan in April, making China the world's best-performing major stock market after India and Japan. Price swings have abated, with 100-day historical volatility on the SSE 180 Index sliding 25 percent this year.
"If you add the A shares into the portfolio, I don't think the risk profile will go up," Mandy Chan, head of Chinese equities at HSBC Global Asset Management, said by phone on Nov. 13. "Volatility is quite low for the big caps. It's not riskier for us. But the returns are good so we will definitely invest."
While the correlation between Chinese stocks and the rest of the world will eventually increase, government controls will slow that process, Chan said. O'Neill, who is also a columnist for Bloomberg View, said he hopes the correlation remains low. The current cap on Shanghai investments through the Hong Kong link equates to less than 2 percent of the mainland benchmark's market value.
"We're still at a very early stage," said Tony Chu, a money manager for RS Investment, which oversees about $22.3 billion. "In the next five to 10 years I still see it as very lowly correlated with other global markets."
Before it's here, it's on the Bloomberg Terminal.
LEARN MORE