Russia Seen Biggest Threat in Poll as Oil Erodes Putin Power
Gregory Viscusi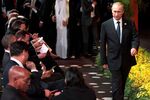 Russia poses the biggest security risk to world markets and will be the biggest loser from the drop in oil prices, according to a Bloomberg Global Poll of international investors.
Asked which of five possibilities posed the greatest risk to global financial markets, 52 percent of participants chose the Russia-Ukraine conflict. Twenty-six percent cited Islamic State, while Ebola barely registered with 5 percent. The U.S. was seen as the most likely beneficiary from lower crude prices.
Russia is being buffeted by the twin blows of sanctions and an oil-market selloff that threatens to hollow out its economy. While the country is menacing Ukraine with tanks and sending its jets into foreign airspace, President Vladimir Putin said Nov. 14 that the drop in crude is potentially "catastrophic" for the world's largest energy exporter.
"The Russia-Ukraine situation is more dangerous as we have a sovereign state, which is trying to increase its power by creating chaos both through threatening actions of war," Mikael Simonsen, chief sales manager for cross asset sales at Nordea Bank in Helsinki and a poll respondent, said by e-mail. "This might impact the common thinking of how developed we are today, and impact the risk premium."
The poll of 510 investors, analysts and traders who are Bloomberg subscribers was conducted Nov. 11-12 by Selzer & Co., a Des Moines, Iowa-based firm, and has a margin of error of plus or minus 4.3 percentage points.
Warship Movement
Investors have been confronted by a series of geopolitical crises this year ranging from war in Eastern Europe to Ebola in Africa and persistent territorial tensions between China and its neighbors. In the past week alone, Russia moved warships toward Australia on the eve of a Group of 20 summit and announced plans to extend its long-range bomber patrols as far as the Gulf of Mexico.
Russia, which annexed Crimea from Ukraine in March, has repeatedly denied that it's sending its armed forces into Ukraine or aiding the separatists.
The degree of risk to financial markets from political and military violence was seen rising by 46 percent of respondents, while 41 percent saw it steady and 13 percent said it's declining. Russia itself has paid a price for the conflict and ensuing sanctions: The ruble is down 30 percent this year.
Falling oil prices also have the potential to alter the political landscape. Russia was seen by 51 percent as the biggest loser from the lower price of oil, ahead of Venezuela at 21 percent, Saudi Arabia at 12 percent and Iran at 6 percent.
Affordable Prices
"Russia and some other smaller producers might be the biggest losers as they depend on a high oil price to finance the government budget and external trade," said Fabian Fritzsche of Collineo Asset Management GmbH in Dortmund, Germany. "For the Middle East oil exporters a higher price is nice, but they can afford a lower price."
Opinions on which countries benefit most from cheaper oil were more divided. Thirty-one percent pointed to the U.S., 18 percent to China and 15 percent to Japan. Eleven percent cited Europe and India.
Many European investors saw themselves and industrialized Asian countries as the bigger winners because U.S. shale production will be hit by falling prices.
"The U.S. also benefits from low prices, but to a less extent than the EU because the U.S. is a big oil producer too," said Gala Prada Sevilla, head of pension funds at Fiatc Seguros in Barcelona.
Investors are also trying to maneuver ongoing disputes between Japan and China over territory in the East China Sea. Asians were more likely to see rising risk than respondents in the U.S. or Europe.
For some respondents, Islamic State represents the biggest threat of all because the protagonists are the most unpredictable.
"It cannot be controlled, you never know what they are up to, they will do anything to achieve their goals and they are expanding," Fiatc's Prada said. "Ukraine is more a local conflict and I don't think the EU will let it get out of hand."
Before it's here, it's on the Bloomberg Terminal.
LEARN MORE