Romanian Premier Ponta Set to Win Presidency in Runoff
Andra Timu and Edith Balazs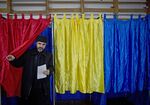 Romanians are voting in a runoff presidential election, with Prime Minister Victor Ponta set to claim the post for the Social Democrats after the decade-long rule of his rival, Traian Basescu.
Polling stations opened at 7 a.m. in Bucharest and close at 9 p.m. Ponta, 42, has a lead of as much as 10 percentage points over Liberal Party Chairman Klaus Johannis, polls show. The winner will start the five-year term at the end of next month. If the premier wins, the ruling coalition will have to pick a successor and may shuffle the government midway through the election cycle, with the next parliamentary ballot scheduled for 2016.
"Ponta's margin will likely be sufficient to score a victory," Otilia Dhand, an analyst at Teneo Intelligence, said in an e-mailed note. "To maintain his power position, Ponta will likely nominate a prime ministerial candidate from outside his party."
With economic growth exceeding estimates and a target to adopt the euro in 2019, Romanians are electing a new president after a campaign clouded by corruption scandals and accusations by Basescu that Ponta was a spy before entering politics. He denied the claims, and boosted his popularity by stepping up spending and promising higher pensions and salaries.
"I voted for my conviction that after 25 years of transition we will no longer be a generation of sacrifice," Ponta said after casting his vote in Bucharest today.
Ponta will receive 54 percent of the vote to 46 percent for Johannis, according to a Nov. 6-9 survey of 2,000 people by the polling company CURS Avangarde, which had a margin of error of 2.2 percentage points. A survey of 1,005 Romanians by Sociopol shows Ponta with 55 percent to 45 percent for Johannis, with a 3 percentage-point margin of error.
Leu Performance
The leu gained 0.1 percent to 4.4265 per euro in Bucharest on Nov. 14, while the yields on the government's euro-denominated bond due in 2024 fell 1 basis point, or 0.01 percentage point, to 2.76 percent, according to data compiled by Bloomberg.
Romania's currency has advanced during Ponta's premiership. It's strengthened 2.6 percent against the euro since his coalition won parliamentary elections on Dec. 6 2012, data compiled by Bloomberg show. That compares with a 1.9 percent drop for the Polish zloty, an 8 percent decline for the Hungarian forint and a 9.2 percent plunge for the Czech koruna.
"I voted for a stronger country and I have high hopes for today's election," Johannis, an ethnic German who is also mayor of the Transylvanian city of Sibiu, said after casting his vote. "I know that a lot of people are trying to vote abroad as well. I hope the problems from two weeks ago won't repeat themselves."
The first round of the election, which Ponta won with 40.4 percent on Nov. 2, was marked by television images of hundreds of voters lining up outside embassies in London, Paris and Vienna, with many of them unable to cast their vote before polling stations closed.
Thousands Protest
One week later, more than 5,000 people protested in several Romanian cities to show their support, which prompted Foreign Minister Titus Corlatean to resign on Nov. 10. He was replaced with former spy chief and presidential candidate Teodor Melescanu as Ponta pledged he would increase the number of polling booths and ease paperwork to speed up the process.
Protests resumed on Nov. 14 with more than 10,000 people marching in the western city of Cluj.
"What happened with the diaspora votes is a stain on Romania's international image but it won't be enough to push Johannis to victory," said Adrian Moraru, an analyst at the Institute for Public Policies in Bucharest, which has been studying Romanian elections since 2004.
Economic growth of European Union's second poorest member accelerated to 3.2 percent in the third quarter, from a year earlier, after a revised 1.4 expansion in the previous three months. That exceeded the estimates of nine economists in a Bloomberg for 1 percent growth.
The budget deficit, which swelled to as much as 7.2 percent of gross domestic product in 2009, shrank to an estimated 2.2 percent this year after the government reined in expenditures before Ponta's pre-election spending spree. The country is targeting a 1.4 percent shortfall in 2015.
Ponta endorsed Calin Popescu Tariceanu, a prime minister between 2004 and 2008, as his possible successor and lined up central bank First Deputy Governor Florin Georgescu and George Maior, the head of Romania's Domestic Intelligence Service, as potential back-ups.
"The first task of the new premier will be to prepare the budget for next year, which will probably involve consolidation measures to make up for looser spending this year," Dhand said.
Before it's here, it's on the Bloomberg Terminal.
LEARN MORE