Federer Pulls Out of ATP Final, Giving Djokovic Title
Danielle Rossingh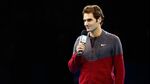 Roger Federer pulled out of the championship match of the ATP World Tour Finals with a back injury, allowing Novak Djokovic to take his third straight title at the season-ending tennis tournament.
"It would be too risky at my age to do this right now," six-time champion Federer told the crowd at London's O2 arena. "I hope you understand."
It's only the third time in 1,221 matches the 33-year-old Swiss has withdrawn from a tournament. The season-ending season finale on the men's tennis tour has never been won on a walkover in its 44-year history.
Federer, a 17-time major champion, hurt his back yesterday when he saved four match points in his semifinal defeat of fellow Swiss Stan Wawrinka. Although his coach, former Wimbledon champion Stefan Edberg, carried his bags off the court after his 4-6, 7-5, 7-6 (8-6) win, Federer hadn't said anything about his injury in his post-match press conference.
"I was feeling great until yesterday's tiebreaker," Federer, who didn't come in to do a press conference, told the ATP website today. "I felt all of a sudden the back was feeling funny. I tried to have treatment on it, medication on it, just tried to turn around as quick as possible really, but didn't really feel that much of an improvement overnight."
Because the Wawrinka match finished just after 11 p.m., there wasn't enough time to recover for the final, scheduled for 6 p.m. today, Federer said.
'Not Good Enough'
"The way I feel right now, there's no way I can compete at any level really," he said. "So probably in a few days it's going to be better, but right now it's not good enough. So clearly it's very disappointing."
Federer won't pull out of the Davis Cup final, which starts Nov. 21 in Lille, France. He's never won the Davis Cup and was scheduled to play against France alongside Wawrinka. Switzerland's third-best player is 198th-ranked Marco Chiudinelli.
"Recovery obviously as quick as possible, and then traveling to France at some point and getting ready on the clay for the Davis Cup final," he said, when asked by the ATP what his immediate plans were.
Blow For Barclays
"Obviously very disappointing for you guys not seeing a match," Djokovic told the crowd after he received his trophy. He played an exhibition match against Britain's Andy Murray instead. Murray had been knocked out in the group stage, winning one game against Federer, his worst defeat in seven years.
"Roger is absolutely gutted he can't play," Chris Kermode, ATP executive chairman and president, told the British Broadcasting Corp. "But what a professional, he told the fans on court himself."
Kermode had got a call from Federer in the morning, telling him "there was a bit of an issue," he said.
Federer's withdrawal was a blow for Barclays Plc, the main sponsor of the ATP World Tour Finals.
"This is extremely disappointing for everyone involved, and we are especially disappointed for Roger and Novak, and all the fans who have come to see the two top players in the world, Ashok Vaswani, chief executive officer of Barclays personal and corporate banking, said in a statement.
Lasting eleven months, the tennis season is one of the longest in professional sports.
Back Injury
Although he's never retired from a match with an injury, Federer has occasionally struggled with his back in his career. He'd slumped to No. 8 in the rankings in January after back trouble last season.
''I must say I've been feeling really good for over a year now, which has been not a surprise, but it's been very nice," Federer told the ATP. "So this back spasm, whatever it might be, it's just not a fun thing to have during the day. It's just uncomfortable. But I'm positive and I'm hopeful that it's going to go away very soon."
Djokovic, the top seed, was to meet No. 2 Federer in the final of a tournament that saw 10 of 12 round-robin matches being decided in straight sets with no upsets. It was the 37th encounter between the two, with Federer leading 19-18 after the forfeit.
Djokovic, who also won the ATP Finals title in 2008, is the first player since Ivan Lendl to win the event between the eight best tennis players in the world three times in a row. The 27-year-old Serb is however still some way off catching Federer at the ATP Finals. Federer holds a record six titles against the best of the world, followed by Lendl and Pete Sampras with five championships.
Djokovic received $2 million for winning the title undefeated. He'll finish the season as the No. 1 player in the world for the third time in four years, putting him on par with Rafael Nadal of Spain.
Before it's here, it's on the Bloomberg Terminal.
LEARN MORE