Victim Remains, Wreckage of Malaysian Plane Recovered
Elco van Groningen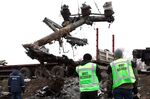 A team of Dutch investigators and members of the Ukraine emergency services recovered human remains, personal possessions and wreckage from Malaysian Airline System Bhd. Flight MH17 in eastern Ukraine, deepening their probe into the July tragedy that killed 298 people.
The remains were handed to a Dutch team in charge of bringing all remains back to the Netherlands for identification and will first be brought to Kharkov for a initial forensic check, the Dutch government said in a statement on its website. The first pieces of wreckage were taken to the town of Torez in Ukraine.
The wreckage will eventually be returned to the Netherlands to be re-assembled. If circumstances permit, recovery will continue tomorrow, the Dutch Safety Board said, adding that it expects the recovery to take several days. Access to the rural crash site had been restricted amid fighting between government and rebel troops; a mortar hit the ground at about 1,500 meters from the crash site today, the Dutch government said in the statement.
An initial report into the cause of the crash found that the aircraft was hit by "a large number of high-energy objects," supporting allegations that a rocket may have brought down the plane.
MH17 was carrying 283 passengers and 15 crew on July 17 when it crashed while crossing the war zone in eastern Ukraine en route from Amsterdam to Kuala Lumpur. Dutch nationals made up the biggest contingent, at more than 190, followed by Malaysians. Other victims came Australia, Indonesia, the U.K., Germany, Belgium, the Philippines, Canada and New Zealand.
An analysis of the plane's voice recorder revealed no warning in the cockpit, and no emergency was declared by the crew before the flight "ended abruptly," the report published in September said.
The U.S. and other nations have accused Russia of supplying missiles to rebel fighters, which were then used to shoot down the airliner, a Boeing 777.
Before it's here, it's on the Bloomberg Terminal.
LEARN MORE