China Turns to America and Australia for Safer Milk
By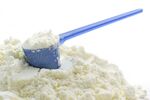 Chinese consumers, spooked by recurring food-safety scandals, are looking to trusted names to provide quality milk for their children. The market for baby formula in China is booming, with revenue likely to hit 191 billion yuan ($31 billion) by 2017, more than double the amount last year. Australian tycoon Gina Hancock wants to profit from that. The billionaire's Hope Dairies is seeking to acquire about 5,000 hectares (12,400 acres) of farmland and a processing facility for infant formula and ultra-high-temperature processed milk in Queensland. "There's another 50 million mouths probably coming online," co-investor and Director Dave Garcia told Bloomberg News on Friday.
Australians aren't the only ones looking to sell more milk to residents of China. Yesterday, one of China's biggest dairy companies announced an agreement with the Dairy Farmers of America to sell U.S.-produced milk powder in China. Inner Mongolia Yili Industrial will hold 30 percent of the $100 million joint venture, which will open a plant in Kansas with capacity to produce 80,000 tons of dairy power a year. Zhang Jianqiu, Yili's chief executive, said the deal should improve the company's technology and quality management, according to a report by the official Xinhua news agency.
Quality is the key word in China, where milk safety remains a hot-button issue. On Wednesday, China Modern Dairy said in a statement to the Hong Kong Stock Exchange that regulators are investigating reports in the Chinese media that the company sold dairy cows that tested positive for bovine tuberculosis. "The Company has fully cooperated" with the investigation, Modern Dairy said, adding that it "has always attached great importance to the health management of our dairy cows." The news sent the stock price plunging by more than 9 percent—even though Modern Dairy didn't do anything wrong, according to a report by China International Capital published on Wednesday. CICC analysts Brad Yang Chen and Paul Feiyang Yuan wrote that the positive test result was the result of vaccination, not a virus, though the government is nonetheless likely to fine the company.
Foreigners are at risk, too. For 15 months, China's government banned the import of Fonterra products containing whey in the wake of a botulism scare involving the New Zealand dairy giant. Even though that turned out to be a false alarm, with Fonterra concluding that there was no bacteria infection, China's government allowed the cooperative to resume sales only this month.
Before it's here, it's on the Bloomberg Terminal.
LEARN MORE