China Bad Loans Jump Most Since 2005 as Economy Cools
Bloomberg News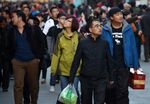 China's bad loans jumped by the most since 2005 in the third quarter, fueling concern that a cooling economy will be further weakened as banks limit lending to avoid credit risks.
Nonperforming loans rose by 72.5 billion yuan ($11.8 billion) from the previous quarter to 766.9 billion yuan, the China Banking Regulatory Commission said in a statement on Nov. 15. Soured credit accounted for 1.16 percent of lending, up from 1.08 percent three months earlier.
As China heads for the weakest economic expansion since 1990, Communist Party leaders have discussed lowering the nation's growth target for 2015, according to a person with knowledge of their talks. Bankers' low appetite for risk and their rising concerns about asset quality are leading to a "sluggish" expansion in credit, according to UBS AG.
"We are still suffering from the aftermath of the credit binge and massive stimulus measures put in place in 2008," said Rainy Yuan, a Shanghai-based analyst at Masterlink Securities Corp. "Banks have accelerated recognition of their bad loans in the last two quarters so that they could start the clean-up process."
Still, the pace of debt souring may have reached its peak, Jim Antos, a Hong Kong-based analyst at Mizuho Securities Asia, said in a note today. He estimated that nonperforming loans at Hong Kong-listed banks will probably increase by 18 percent in 2015, slowing from an estimated 31 percent gain in 2014.
Shares Drop
Industrial & Commercial Bank of China Ltd., the nation's largest lender, fell 1.1 percent to HK$5.05 as of 10:20 a.m. Hong Kong time. China Construction Bank Corp., Agricultural Bank of China Ltd. and Bank of China Ltd. also dropped at least 1 percent.
Shares of lenders led by Beijing-based Bank of China and China Minsheng Banking Corp. may rise as much as 20 percent by January as the government eases policies and as a trading link between Hong Kong and Shanghai's stock exchanges debuts today, Antos said.
Aggregate financing, the nation's broadest measure of credit, missed analysts' estimates in October and growth in factory output cooled.
While new lending was "solid," banks are cautious and demand for credit is "frail" because of a property downturn, UBS economists including Donna Kwok and Wang Tao wrote in a note dated Nov. 14. They see economic weakness triggering cuts in benchmark interest rates from early next year.
Lower Targets
Party leaders have discussed lowering the 2015 growth target from this year's 7.5 percent goal, the person with knowledge of their talks said last week. Gross domestic product will rise 7.4 percent this year, according to the median of analysts' estimates in a Bloomberg News survey.
Chinese banks' combined net income rose 12.7 percent to 1.26 trillion yuan in the first nine months from a year earlier, the CBRC data showed.
Weakness in the economy and extra competition for lenders because of financial deregulation may weigh on banks' profitability. ICBC, the world's largest lender by assets, last month reported its biggest quarterly jump in bad loans since at least 2006.
Stresses in the economy are visible through companies such as Sinosteel Corp., a state-owned miner and steel trader that in September reported financial difficulties.
So-called special-mention loans, or those that may have already become overdue and are yet to be categorized as nonperforming, rose 12 percent in the third quarter to 1.8 trillion yuan as of Sept. 30, according to the CBRC.
Lenders' bad-loan coverage ratio, a measure of reserves for soured credit, narrowed to 247.2 percent from 262.9 percent in June, the CBRC data showed. Their capital adequacy ratio, a measure of financial strength, increased to 12.9 percent from 12.4 percent three months earlier.
— With assistance by Jun Luo, and Aipeng Soo
Before it's here, it's on the Bloomberg Terminal.
LEARN MORE