Can Marijuana Save Harry Reid in 2016?
A Nevada ballot measure to legalize pot may be a boon to the Democrats' Senate leader.
By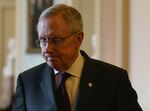 By the looks of it, Harry Reid will need all the help he can get if he decides to run for re-election in two years, and one thing that may lend the Senate Minority Leader a mellow hand is marijuana.