Bill Clinton to Obama: Don't Be a Lame Duck
There's nothing sadder than a president who just lets go, says the Big Dog.
By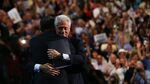 President Barack Obama didn't ask for a pep talk, but he just got one.
During a livestreamed question-and-answer session with Politico's Mike Allen in Little Rock, Ark., on Saturday, former President Bill Clinton encouraged Obama to push his agenda and not buy into the lame-duck myth.
"I never bought this whole lame-duck deal," said Clinton, who is in Little Rock to celebrate the 10th anniversary of the Clinton Presidential Center. "I just didn't. I just think it's a mindset."
Clinton encouraged the president to "minimize the chance of being a lame duck" by "continuing to have an agenda and using the budget process to make deals with the Republicans, because now that they have both houses, they have a much greater vested interest in not just being against everything."
He said he believes Obama can still pass immigration reform and tax reform.
Clinton's other advice: Keep having fun. He said there's "nothing sadder" than someone who's term-limited letting themselves go, likening the circumstances to those of an athlete who's getting older.
"It needs to be fun. It's a great honor to work in the White House," Clinton said. "It's crazy to say you're a lame duck and waste a single day of that precious time."