A Couple of Frat Guys are Behind 'Draft Rob Portman'
They've filed papers with the Federal Election Commission and will use social media to encourage the Ohio senator to run for president in 2016.
By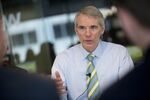 They've never met him, worked for him, or seen him in person. They aren't even from his native state. Yet fraternity brothers Trevor Parkes and Henry Longley want to leave their mark on the 2016 Republican presidential primary by drafting Ohio Senator Rob Portman into the race.