Podesta: 'I'll Do Whatever' Hillary Clinton Asks If She Runs
And he hopes she does run, he says.
By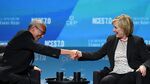 John Podesta, counselor to President Barack Obama and former chief of staff to President Bill Clinton, is ready to join Hillary Clinton's 2016 campaign if she'll have him, he told Bloomberg's Al Hunt in an interview that aired Friday on "Charlie Rose."
"If she runs, which I hope she will, I'll do whatever she asks me to do," Podesta said. "But right now she hasn't made a decision to run and so I'm expecting to return to what I was doing before."
Podesta joined the administration in 2013 and said that he plans to leave early next year. "I might stay a little longer through the State of the Union, but then I'm going to return to my prior life," he said.
But that depends on what Clinton decides. Hunt asked Podesta if he'd talked to her about what role he might play. Podesta said that he "talks to her from time to time," but "she hasn't made a decision so she's structured no campaign."
In a Bloomberg View column published Friday, Hunt added: 
Sources have said the former secretary of state has discussed bringing Podesta in as chairman of any campaign (which is not likely to be officially started for months). ... 

There may be no one in Democratic circles who commands more respect than Podesta. His standing is similar that of James Baker, the former secretary of state, in Republican circles three decades ago. ...

The unsuccessful Hillary Clinton 2008 campaign was marked by chaotic infighting and, at least initially, a lack of direction. Prominent Democrats believe it'll take someone of Podesta's stature to bring order to her expected 2016 quest.
Watch the segment here: