Novak Djokovic Defeats Kei Nishikori to Move to ATP Tennis Final
Danielle Rossingh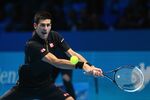 Defending champion Novak Djokovic overcame a challenge from Japan's Kei Nishikori to move to the championship match at the ATP World Tour Finals.
The four-time winner from Serbia beat the U.S. Open finalist, 6-1, 3-6, 6-0 at London's O2 arena.
"Kei was making his debut this year, but he is a great player and I knew he was confident," Djokovic said in a court-side interview. Before today, he'd dropped only nine games in three round-robin matches, the least ever in the history of the event.
"It was very hard to play him," said Djokovic, adding he'd benefited from "some crucial double faults," in the final set, including one on match point.
Now 31 matches unbeaten indoors, Djokovic plays the winner of the first all-Swiss semifinal later in the day between six-time champion Roger Federer and Australian Open winner Stan Wawrinka.
It was a routine first set for Djokovic, who took it in 23 minutes with two breaks and only losing two points on his own serve.
The match changed early on in the second set when Djokovic got angry with the crowd. Up a break, he dropped his serve on a double fault to cheers from the crowd, which hadn't seen many competitive matches all week. Djokovic applauded and raised his thumb.
Challenged for the first time this tournament, Djokovic struggled as Nishikori dictated play from inside the baseline and mixed up the pace.
Nishikori, 24, has had a breakout year. He became the first Asian man to reach a Grand Slam singles final after he upset Djokovic in the semifinals of the U.S. Open. A star in Japan, Nishikori is also the first Asian man to play in the season-ending championships.
After he had his right wrist taped in the changeover after seven games, Nishikori set up a break point with a forehand down the line and broke for the first time in the match with another forehand winner. Serving for the second set at 5-3, Nishikori produced an ace and forced Djokovic into a deciding set with a big serve that drew a return error.
Although Nishikori has the best decisive set win-loss record, 69-18 or .793 percent, of all male tennis players since tennis turned professional in 1968, he failed to take his chances.
After the Japanese player squandered two break points in the first game, Djokovic quickly went up a double break as he regained control of the baseline and forced his opponent into mistakes. Serving to stay in the tournament at 5-0 down, Nishikori lost the match on his sixth double fault.
Before it's here, it's on the Bloomberg Terminal.
LEARN MORE