Mexican President Facing Protests That May Erode Investor Trust
Brendan Case and Eric Martin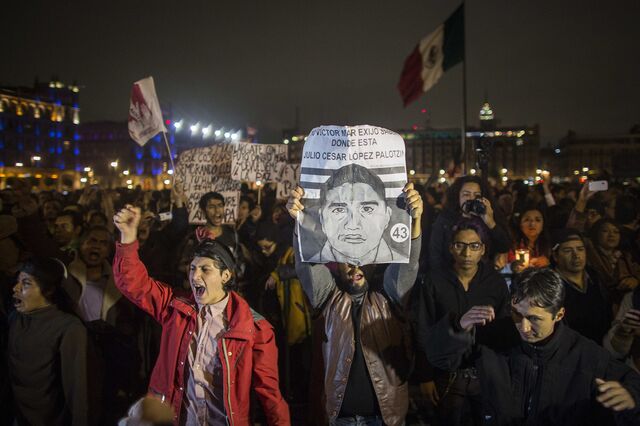 Mexico President Enrique Pena Nieto returns from China and Australia today to confront protests over his government's response to an alleged massacre of 43 students that the central bank said may undermine investor confidence.
After a week of demonstrations in which protesters burned the doors of the government's National Palace in Mexico City and blocked highways and an airport in the state of Guerrero, relatives of the missing students started nationwide bus tours to maintain pressure on the government to investigate the disappearances.
"This is the most difficult time he's faced in government," Jose Antonio Crespo, a professor at the Center for Economic Research and Teaching in Mexico City, said in an interview. "If he doesn't get more control over the situation, the economy could weaken and investors may feel less interested in Mexico."
While Pena Nieto or his ministers have addressed the search for the students on an almost daily basis, protesters have made a rallying cry out of Attorney General Jesus Murillo's comment ending an hour-long news conference on the case by waving off additional questions and saying, "I'm tired."
Acting on the local mayor's orders, police in the southern town of Iguala abducted the students and handed them over to members of the Guerreros Unidos drug cartel, Murillo told reporters Nov. 7. The traffickers later confessed that all were killed, their bodies burned in a landfill with tires and gasoline before the remains were discarded in a river, he said.
70,000 Killed
That crime is the latest act of violence in a drug war that has cost 70,000 lives since 2006, according to data compiled by Mexican newspaper Milenio.
"The recent social developments in the country could deteriorate the level of confidence of economic agents, domestic and foreign, with an adverse impact on investment," central bank policy makers said in the minutes of their Oct. 31 meeting published yesterday.
The central bank board members were unanimous in their decision to keep the benchmark interest rate unchanged at a record low last month, saying the economy is showing signs of a moderate recovery after growing less than analysts estimated in seven of the past nine quarters.
Continuing Violence
Pena Nieto, 48, has spent the first two years of his presidency focusing on boosting investment in Mexico's economy, the largest in Latin America after Brazil. Thanks in part to the U.S. recovery, auto production in Mexico has doubled in five years. Foreign investors now hold 37 percent of government peso debt, near a 19-year high reached in July, according to central bank data.
Violence "is not new, sadly, it's a problem we've had for a number of years now," Alonso Cervera, the chief Latin America economist with Credit Suisse Group AG, said in a phone interview. "I don't want to minimize it, it's serious. But it's not new."
A rebel group known as the EPR, which has roots in Guerrero state, yesterday claimed responsibility for an early morning explosion Wednesday outside a supermarket in the city of Ecatepec which damaged the store and two nearby banks, newspaper El Universal reported.
In the wake of the student disappearances, 63 percent of Mexicans said the country's governance is at risk, according to an Oct. 25-29 poll by Parametria. The survey of 800 people had a margin of error of 3.5 percentage points.
Market Reaction
While the Iguala incident shows Mexico "struggling with the rule of law at multiple levels" and spotlights the need for the country to confront its security challenge, the latest turbulence probably won't stop Pena Nieto's economic overhauls, Morgan Stanley wrote in a report yesterday.
The cost of insuring Mexico's sovereign debt for five years is near the 12-month average and lower than it was a month ago. The benchmark IPC index of the Mexican stock exchange has fallen 3.7 percent this month, about half the decline of the MSCI Emerging Markets Latin America Index. While the peso has lost ground against the dollar this month, it has weakened less than currencies in Chile, Colombia and Brazil.
On his trip abroad, Pena Nieto touted recent legal changes designed to bolster investment, boost competition and increase bank lending. Earlier this year his government broke a seven-decade state monopoly on oil drilling long sought by foreign investors. The political crisis threatens to damp the impact of some of those changes, Crespo said.
"The reforms are already passed, but the risk is that their effects could be minimized if people decide not to invest," Crespo said.
A mounting scandal over why the home of Pena Nieto's wife is held in the name of a contractor that won part of a $4.3 billion railroad project last week before the government canceled the deal is also putting Pena Nieto on the defensive.
"This is weakening the president's credibility," political consultant Alfonso Zarate said in a telephone interview from Mexico City. "None of it is going to get better for him soon."
Before it's here, it's on the Bloomberg Terminal.
LEARN MORE