Indonesia Gives First Indication on Size of Fuel Increase
Sharon Chen and Haslinda Amin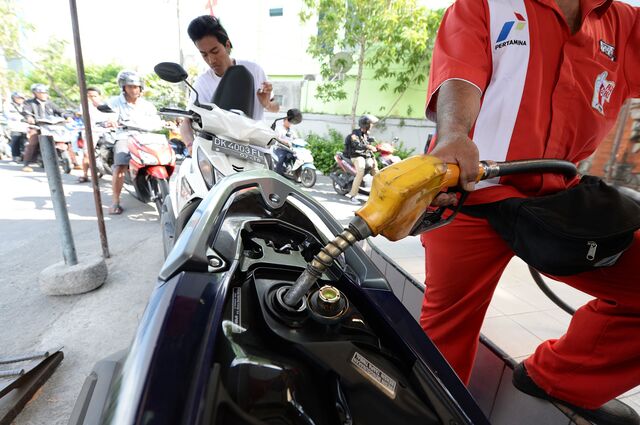 Indonesia will raise fuel prices by less than 3,000 rupiah ($0.25) a liter in the coming weeks, a move that will save the government more than $8 billion in the 2015 budget, its finance minister said.
"For sure, it will be less than 3,000 rupiah," Finance Minister Bambang Brodjonegoro said in an interview yesterday in Brisbane, Australia, where leaders of Group of 20 economies are meeting. The government is "watching closely" what happens with international oil prices, "because most of our fuel is imported," he said.
The estimates are the first indication from President Joko Widodo's government on how much it might increase subsidized fuel prices. Widodo, known as Jokowi, has pledged to curb the energy subsidies that cost more than $20 billion a year, taking up more than a 10th of government spending in the 2015 budget.
Dismantling the decades-old program is a political hot potato -- protests accompanied past price increases and riots spurred by soaring living costs helped oust dictator Suharto in 1998. Jokowi says the funds are better spent on helping the poor, building infrastructure and supporting farmers, fishermen, and workers.
"The saving from the subsidy reallocation will be executed in the revised 2015 budget," Brodjonegoro, 48, said in the interview with Bloomberg Television. "The preliminary designation would be more than 100 trillion rupiah," which would be allocated to improving basic infrastructure, especially irrigation, and supporting farmers on fertilizer and agriculture productivity, he said.
Fishing Boats
Jokowi would also like to emphasize support to fishermen for boats, engines and refrigerators, the finance minister said. Indonesia aims to expand the social protection system and support transfers to local governments, he said.
The price of subsidized gasoline was last increased by 44 percent to 6,500 rupiah a liter in 2013, while diesel was raised by 22 percent to 5,500 rupiah a liter. Falling oil prices mean the government is now unlikely to raise fuel rates by more than 2,000 rupiah a liter, Leo Rinaldy, an economist at PT Mandiri Sekuritas, said before yesterday's interview.
"The market has been looking at 1,000 to 3,000 rupiah," Joey Cuyegkeng, an economist in Manila at ING Groep NV, said by phone. "It's possible that they may raise it 2,000 rupiah. That would have some inflationary impact, but on a longer-term basis, that would provide fiscal space for the Indonesian government."
Oil has collapsed into a bear market, with Brent falling below $80 a barrel.
Investors see a fuel subsidy cut as the key test of whether Jokowi's government will follow through on its election pledges to overhaul the economy.
Decision Due
"For sure, we are going to do it and it must be before the end of this year," Brodjonegoro said, referring to the timing of the fuel-price increase. "After this G-20, president would like to ensure whether the distribution of our new kind of social protection system works, and I believe after that president will make a decision."
The impact on inflation of the fuel-price move in 2013 lasted for about three months, and authorities have managed to reduce the severity of price gains over the years, he said. In "2015 the impact will be relatively more manageable," and the government will improve the supply of food to restrain pressures, the minister said.
Growth Forecasts
The subsidy cuts will allow Indonesia to free up fiscal space to spur Southeast Asia's biggest economy, the finance chief said.
"This year our growth might be only 5.1 percent, but next year with the improving of the subsidy, reallocation of the saving in the subsidy, then we hope that we have accelerated infrastructure development that will also help improve the growth to 5.5 percent to 5.8 percent," he said. "In 2016, then, we hope that we have all the fundamentals ready for us to have the growth at around 7 percent."
Indonesia's economy is growing at the slowest pace since 2009, with a bloated energy import bill that's contributed to a persistent current-account deficit and made the rupiah vulnerable to outflows from emerging markets. Curbing fuel subsidies will help reduce the shortfall in the broadest measure of trade and support the currency, Brodjonegoro said.
Policy makers are working on how to strengthen the rupiah "naturally rather than, you know, with the full intervention," he said. "We have to do our policies in order to make rupiah strengthening through reducing the current-account deficit."
Rupiah Hope
The rupiah has fallen more than 4 percent against the U.S. dollar in the past three months, as investors anticipate the Federal Reserve will start raising interest rates next year.
"The rupiah has to reflect our fundamentals," the finance minister said. "We hope that rupiah will be strengthening, but of course it has to be at the level that doesn't reduce the competitiveness of our manufacturing."
Investors might have already priced in the possibility of the normalization of U.S. monetary policy next year, he said.
"We have to be able to reduce the current-account deficit to less than 3 percent of GDP next year," he said. "If we can package all these actions in 2015, we believe that we have some kind of protection to deal with the normalization of monetary policy in the U.S."
Before it's here, it's on the Bloomberg Terminal.
LEARN MORE