Hockey Says G-20 to Exceed Additional 2% Global GDP Goal
Edward Johnson and David Fickling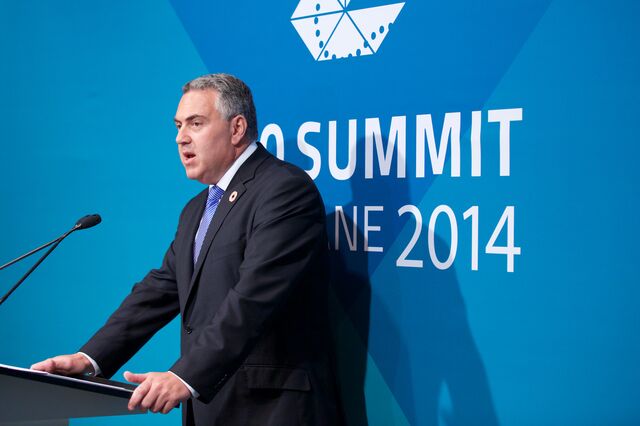 Group of 20 economies will surpass their target of boosting global gross domestic product by two percent, Australia's Treasurer Joe Hockey said.
"The 2 percent target that we announced in Sydney has been met, but it will go further," Hockey told ABC television today as G-20 leaders prepare for a final day of talks in Brisbane. "The world needs growth, Australia needs growth."
G-20 host Australia has made boosting growth, jobs and infrastructure spending a focus of its presidency, with nations putting forward more than 1,000 policy initiatives to accelerate global expansion. Angel Gurria, secretary-general of the Organisation for Economic Cooperation and Development that's tasked with assessing the plans, said Nov. 13 that GDP could expand by an additional 2.1 percent by 2018, if the proposals were fully implemented.
While Australia has sought to keep the focus of the two-day summit in Brisbane on the global economy, the crisis in Ukraine, and calls for greater action on climate change took center stage yesterday.
United Nations Secretary-General Ban Ki-moon told reporters that climate change "is the defining issue of our times" and the G-20 should focus more on it. President Barack Obama, who is leading efforts among nearly 200 countries at the UN to secure a pact to reduce greenhouse gases, said in a speech both the U.S. and Australia had to "step up."
"No nation is immune and every nation has a responsibility to do its part," Obama said in a speech in Brisbane yesterday.
Hockey told the ABC he didn't hear Obama's speech to university students in the Queensland state capital.
'Hard Work'
"I was in meetings with finance ministers," Hockey said. "We're the ones doing the hard work on the treadmill."
In Beijing, Obama pledged to cut U.S. emissions by at least 26 percent by 2025 and China agreed for the first time to cap its overall emissions by about 2030.
The U.S. president "has to get any initiative on climate change through a hostile U.S. Congress," Hockey said. "So far he hasn't had great success."
Obama will use regulatory authority to meet the climate goals he promised in the deal with China, bypassing the Republicans in Congress who generally oppose the tougher emissions rules already in the pipeline. While Congress could pass legislation to block regulations, Obama could veto such a move.
Eradicate Ebola
The G-20 leaders have also pledged to do "what is necessary" to try to eradicate Ebola and address the economic and humanitarian costs of the disease's outbreak.
"We will work through bilateral, regional and multilateral channels, and in partnership with non-governmental stakeholders," the G-20 leaders said in an e-mailed statement yesterday from the summit.
The Ebola outbreak, centered in Liberia, Guinea and Sierra Leone, has killed more than 5,100 people. There have been 14,413 confirmed, probable and suspected cases reported in eight countries, including the U.S., Spain, Nigeria, Mali and Senegal, the World Health Organization said Nov. 14.
The G-20 leaders urged governments that haven't contributed to the fight against the disease to provide financial aid, medical staff, equipment and medicine.
Before it's here, it's on the Bloomberg Terminal.
LEARN MORE