G-20 Commits to Extinguish Ebola, Address Economic Costs
Jason Scott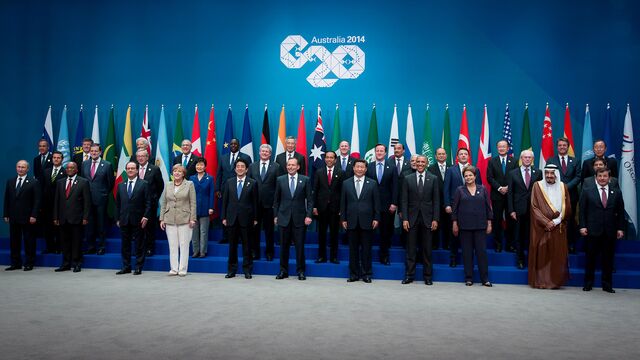 Group of 20 leaders pledged to do "what is necessary" to extinguish Ebola and to address the outbreak's economic and humanitarian costs.
"We will work through bilateral, regional and multilateral channels, and in partnership with non-governmental stakeholders," the G-20 leaders said in an e-mailed statement today as they held their annual summit in Brisbane, Australia.
The Ebola outbreak, centered in Liberia, Guinea and Sierra Leone, has killed more than 5,100 people. The World Bank is mobilizing nearly $1 billion in financing for the countries hardest hit by the crisis.
The G-20 leaders urged governments that haven't contributed to the fight against the disease to provide financial aid, medical staff, equipment and medicine. The spread of the virus highlights the threat to the global community from infectious epidemics, they said in the statement.
"The outbreak illustrates the urgency of addressing longer-term systematic issues and gaps in capability, preparedness and response capacity that expose the global economy to the impacts of infectious disease," the leaders said.
There have been 14,413 confirmed, probable and suspected cases reported in eight countries, including the U.S., Spain, Nigeria, Mali and Senegal, the World Health Organization said yesterday.
Health Workers
The World Bank's financing for the Ebola fight includes more than $500 million for the emergency response and to help speed up the deployment of foreign health workers, and at least $450 million from the IFC, a member of the World Bank Group, to enable trade, investment and employment in the most-affected countries.
The G-20 statement called on the World Bank and International Monetary to continue their "strong support for the affected countries" and welcomed the IMF's initiative to make available a further $300 million to stem the Ebola outbreak and ease pressures on Guinea, Liberia and Sierra Leone, through a combination of concessional loans, debt relief, and grants.
"We ask the IMF and WBG to explore new, flexible mechanisms to address the economic effects of future comparable crises," the G-20 leaders said.
The World Bank said the G-20 statement was a "call to action" on Ebola.
"The G20 leaders' statement is a clear signal to the global community that we must now unite, and in partnership muster all available resources to fight Ebola at its source to save lives and prevent its spread," World Bank Group President Jim Yong Kim said in an e-mailed statement today.
"We are exploring a global pandemic facility that could use insurance and other market mechanisms to make resources immediately available and more broadly share costs and risks," Kim said.
Before it's here, it's on the Bloomberg Terminal.
LEARN MORE