Ford Expands Ranger Pickup Recall for Takata Air Bags
Jeff Plungis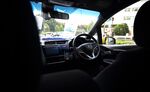 A recall of Ford Motor Co. Ranger pickup trucks in the U.S. was expanded to include more vehicles and more flawed Takata Corp. air bags after a fatal accident in Malaysia exposed a defect in the safety device that wasn't previously known.
Ford will replace driver's-side and passenger air bags in certain 2004 and 2005 model year Rangers, according to a National Highway Traffic Safety Administration statement yesterday. Ford added an unspecified additional number of the trucks to a recall it announced in June, which included only passenger air bags.
The action followed a NHTSA review to identify which U.S. cars have air bags similar to one in a Honda Motor Co. vehicle that crashed in Malaysia four months ago -- the first fatality from a ruptured Takata product outside the U.S.
Takata air bags have been under U.S. scrutiny after flaws were identified that can cause them to explode, sending metal shrapnel into drivers and front-seat passengers. Ten automakers, including Honda and Toyota Motor Corp., have recalled 7.8 million U.S. cars this year with the flawed protective devices.
"We are aggressively investigating Takata air bags from all affected vehicle manufacturers, and we're looking at all of the angles in our pursuit of safety," NHTSA's deputy administrator, David Friedman, said in a statement.
Takata, a Tokyo-based parts maker, said there aren't any known incidents involving drivers-side air-bag ruptures in the Ford Ranger, according to the NHTSA summary.
Dead Woman
The Malaysia crash, on July 27, killed a pregnant woman in a Honda City compact. The air bag was traced to a now-closed plant in LaGrange, Georgia.
NHTSA was informed about the Malaysia crash in September, according to a summary the agency released yesterday. Takata told agency investigators the air bag wasn't used in U.S. vehicles. The Ranger is the only U.S. vehicle known to have an air bag similar to the one made by Takata in the Malaysia crash, the agency said.
Ford, based in Dearborn, Michigan, had already announced a air-bag recall of the Ranger earlier this year, along with the 2005-07 Mustang and the 2005-06 GT sportscar. That recall included 58,669 vehicles.
Ford said in a statement yesterday that the recall has been expanded to include 85,004 vehicles. A majority of the newly recalled Fords are Rangers, said Kelli Felker, a spokeswoman for the company, who said she couldn't provide a breakdown.
"NHTSA has asked us -- and we are, of course, complying -- to notify customers of about 85,000 Ford vehicles to bring their vehicles to dealers so that we can remove and replace vehicles' airbag inflators that were built during a specific time period," Felker said. "The airbag inflators that are removed from Ford vehicles will be inspected and analyzed, which will help NHTSA and Takata in their investigation."
Takata spokesman Alby Berman didn't respond to an e-mail and phone message seeking comment left after business normal hours.
Before it's here, it's on the Bloomberg Terminal.
LEARN MORE