Obama, UN at Odds With G-20 Host Abbott on Climate Change
Jason Scott and Thomas Penny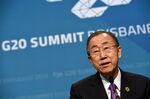 President Barack Obama and United Nations Secretary General Ban Ki-moon called for greater action on climate change, as Group-of-20 host Australia sought to keep the focus of this weekend's summit on economic issues.
"No nation is immune and every nation has a responsibility to do its part," Obama said in a key note speech in Brisbane, Australia today where leaders of the 20-largest economies are meeting. Australia and the U.S. historically "have not been the most energy efficient of nations, which means we've got to step up," he said.
Ban told reporters that "climate change is the defining issue of our times, therefore it's only natural that G-20 leaders should focus much more on this."
Australia's leader Tony Abbott, who in 2009 called climate science "absolute crap" and earlier this year dismantled his nation's carbon-price mechanism, has rebuffed appeals to put the issue more firmly on the G-20 agenda. During its hosting duties this year, Australia's government has repeatedly said the group was primarily an economic forum.
Abbott's government has denied it's at odds with the Obama administration, which is leading efforts among nearly 200 countries at the UN to secure a pact to reduce greenhouse gases that scientists blame for global warming. That bid, which has progressed slowly since 2009, got a significant boost this week after the U.S. and China, the two largest emitters of carbon dioxide, announced their targets for the negotiations.
'Biggest Challenge'
"The biggest challenge to all humanity today is climate change," Turkey's Prime Minister Ahmet Davutoglu, who will host the forum next year, said in Brisbane yesterday. "If the G-20 agenda is only limited to financial issues, G-20 cannot function, cannot have global legitimacy."
In his opening remarks to the leaders' retreat in Brisbane today, Abbott said he wanted the discussion "to focus on the politics of economic reform."
"In the end, though, this is your retreat. It is open to any of you to raise any subject that you wish," he said.
Abbott in July fulfilled a 2013 election pledge to dismantle his nation's pricing mechanism on carbon emissions. That left Australia, the largest polluter per capita among industrial nations, without an enforceable system for reducing greenhouse gases.
Renewable Energy
Abbott's government is also seeking to cut Australia's renewable energy target, which requires electricity retailers to buy renewable certificates from wind and solar farms or generate clean power themselves. He's denied his government is anti-environment and said it's committed to achieving Australia's target of reducing emissions by 5 percent by 2020.
To replace the carbon price, Abbott has budgeted A$2.6 billion ($2.3 billion) for a new program known as Direct Action to reward companies that volunteer to reduce their emissions.
U.K. Prime Minister David Cameron said Australia should do more.
"I hope when they hear what action is being taken by others around the table, as everyone else will, they'll start looking at what they're doing domestically and think what more can be done," he said in an interview with ITV News in Brisbane.
1 Percent
Australia has welcomed the U.S.-China announcement and defended its climate change policy.
"China emits some 24 percent of global carbon dioxide," Abbott told reporters in Canberra yesterday. "The U.S. emits some 15 percent of global carbon dioxide. By contrast, Australia's about 1 percent. So, I think it's important that they do get cracking when it comes to this."
In Beijing, Obama pledged to cut U.S. emissions by at least 26 percent by 2025 and China agreed for the first time to cap its overall emissions by about 2030, and said it will seek to get 20 percent of its energy from non-fossil-fuel resources.
The U.S. announced it will pledge $3 billion to a UN climate-change fund that's intended to help poor nations boost renewable energy.
Before it's here, it's on the Bloomberg Terminal.
LEARN MORE