Virgin America Gets a Warm Stock Market Welcome
By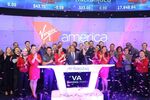 Virgin America soared 30 percent on its first day as a publicly traded company—further proof that it's an excellent time to be in the airline business. The stock closed at $30 on Friday, one day after the airline raised $307 million by selling its first public shares at $23.
"Everybody's casting around the airline world looking for something that's a little undervalued that could see a roll," says George Ferguson, a senior airline analyst with Bloomberg Intelligence. "There's a lot of investor desire for airlines right now."
Seven years after a very rocky start, Virgin America has built a niche business on cross-country flights, offering a mix of stylish aircraft cabins, white leather seats, and food and drinks that are ordered from seat-back video screens. Its service and aesthetic have garnered the carrier numerous travel industry awards and passenger acclaim. More to the point for potential investors, Virgin America has curbed its growth and turned profitable—even while flying against the Big Three full-service airlines on many of the most lucrative routes in America. The airline earned $56 million in the first nine months of 2014, compared with a $4 million loss in that period last year.
Like its peers, Virgin America is also enjoying lower jet fuel prices thanks to the dramatic decline in crude oil prices in recent months. The Bloomberg U.S. Airlines Index has gained almost 60 percent this year, helped by the combination of strong travel demand, which gives airlines pricing power on fares, and the drop in fuel prices. Another advantage for Virgin America is that its nonfuel expenses—mostly employee and airport costs—are lower than its larger rivals'.
Virgin America recently launched new flights from Dallas to New York, Washington, and California, and plans to expand this winter with service between New York and Miami. The bulk of the company's 53-jet Airbus fleet is deployed on routes from San Francisco and Los Angeles. It plans to add 10 new Airbus A320s over the next two years, with about two-thirds of that seat capacity bolstering frequency on its busiest routes. The rest will be used on one or two new destinations, which could include Hawaii. Virgin America has no further planes scheduled until 2020, when it begins acquiring the new Airbus A320neo, the manufacturer's more fuel-efficient version of its current narrowbody models.
No matter how much Virgin America is enjoying the current robust demand in the U.S., it will remain a niche player in an industry dominated by behemoths, Ferguson says. The top three are all part of global networks that vie for corporate traffic—a market where Virgin America could suffer. "The smaller airlines and the low-cost airlines are not seeing the yield improvements that the big, full-service guys are," he says. That's largely because of the capacity restraint U.S. airlines have engineered following their industry consolidation, which further concentrated the role of large "fortress hubs" such as Atlanta, Chicago, Dallas-Fort Worth, Detroit, Miami, and San Francisco.
Despite the intense competition on high-fare routes between California and New York, Boston, and Washington, Virgin America still enjoys a revenue premium to rivals, Chief Executive Officer David Cush said on Friday in a telephone interview. He dismissed the importance of a flat bed—which his airline doesn't have—as "an overrated product on the [transcontinental] routes" save for red-eye flights.
Before it's here, it's on the Bloomberg Terminal.
LEARN MORE