The Democrats' 'Impeachment' Ruse
Republicans aren't actually using the "I-word" to spook Obama.
By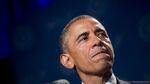 The velocity of the White House's adoption of "executive amnesty" for illegal immigrants has left its opponents surprised and scrambling. Only today did Heritage Action release a statement telling Republicans that failure to de-fund Obama's possible order in the year-end continuing resolution would mean "little more than a blank check for amnesty." Texas Senator Ted Cruz, the most prominent member of a clique that wants support for "amnesty" to be a defining issue in Loretta Lynch's upcoming hearings, has not said anything about the funding vote. Republicans are weighing their options, which will multiply in January. As Texas Representative Joe Barton told me this week, the expectation an Obama "amnesty" would last "three or four months," until the Republican Congress ended it.