Rio Olympics Extend Deadline After Volunteer Numbers Flag
Tariq Panja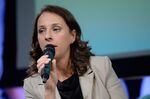 Organizers of the 2016 Rio de Janeiro Olympics extended a registration deadline for volunteers after getting slightly more than half its original target of 300,000 applicants.
Rio 2016, the first South American Olympics, secured 167,000 entries before tomorrow's original deadline. The games require 70,000 volunteers.
"There has been a significant increase in registrations over the last few weeks, as well as a number of requests to extend the registration period," said Flavia Fontes, Rio 2016's volunteer program manager. "It is clear that there are still many interested people who have yet to register so we have decided to extend the registration period until Dec. 15 to give everyone the opportunity to participate. This really is the last chance."
Organizers have been contacting institutions including universities and schools in an effort to boost volunteer numbers within Rio.
Volunteers who have registered interest come from more than 180 countries. "We are very happy that such a wide range of people have registered for the program," Fontes said.
Volunteers are the unpaid backbone of the Olympics and other sporting events like soccer's World Cup. Their jobs include helping spectators find their way around sprawling venues, escorting athletes and providing medical assistance.
Before it's here, it's on the Bloomberg Terminal.
LEARN MORE