Receptos Executives Sell Stock After Successful Drug Test
Caleb Melby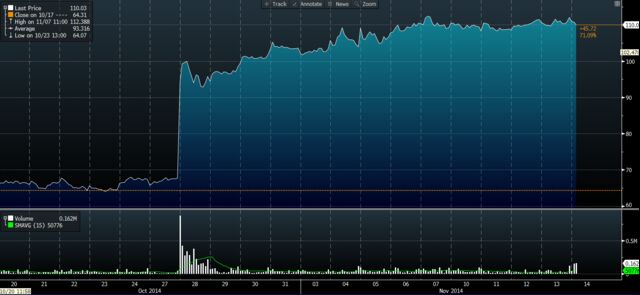 Five executives at Receptos Inc., an immune and metabolic-disease drugmaker that staged an initial public offering last year, sold $36.7 million of stock after the company reported positive results from a drug study that sent shares soaring.
Chief Executive Officer Faheem Hasnain, who was 55 when Receptos's proxy statement was filed in April, sold stock valued at $21.9 million in transactions on Nov. 10 and Nov. 11, after the company climbed 62 percent following the Oct. 27 report, according to a regulatory filing. The sales were the second he's made since the company's IPO in May 2013, reducing his Receptos holdings by 34 percent, regulatory filings show.
The San Diego-based company said in October that an eight-week treatment study of its trial drug met efficacy goals in fighting the irritable-bowel disease ulcerative colitis. Receptos is planning more studies in patients with the illness as well as those with Crohn's disease, according to the October announcement. The drug, RPC1063, also has had success in patients with relapsing multiple sclerosis, according to Receptos's website.
"There is a tremendous unmet need for a novel orally administered therapy in these patient populations," Hasnain said in the October report.
Graham K. Cooper, Receptos's chief financial officer, didn't respond to several phone and e-mail requests for comment.
Marcus Boehm, Receptos's chief technology officer, sold 40,454 shares worth $4.45 million, and Chief Scientific Officer Robert Peach sold $3.84 million. Sheila Gujrathi, chief medical officer, sold $3.27 million, and Chrysa Mineo, senior vice president, sold $3.29 million.
Receptos has a market capitalization of $3 billion and had revenue of $4.6 million last year.
Before it's here, it's on the Bloomberg Terminal.
LEARN MORE