Perella Weinberg's Xerion Fund to Close, Return Money
Kelly Bit and Katherine Burton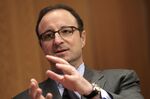 Perella Weinberg Partners LP is shutting its Xerion hedge fund, after its manager, Daniel Arbess, failed to recoup a 21 percent loss dating from 2011.
"As you know, we experienced the only material down year in our 12-year history in 2011 and have achieved positive annual returns since, bringing our investors closer to full recovery," Arbess wrote in the letter sent to investors yesterday, a copy of which was obtained by Bloomberg News. "But we are still not quite there, and my views of the environment, personal discipline and expectations guide us to return your capital now."
Xerion's assets have declined to about $600 million from a peak of more than $3 billion. The Perella Weinberg Partners Xerion Fund fell 2.8 percent in October and 6.5 percent this year, according to a performance update to investors, a copy of which was obtained by Bloomberg News. Hedge funds on average have gained 2 percent this year through October, Bloomberg data show.
Perella Weinberg acquired the fund, which focused on distressed credit and special situations, in October 2007. Arbess started Xerion Partners in 2002.
Kara Findlay, a spokeswoman for New York-based Perella Weinberg, didn't immediately have a comment. The Wall Street Journal reported the closure yesterday.
Before it's here, it's on the Bloomberg Terminal.
LEARN MORE