Oil-Price Rout Seen Deepening by IEA as Pressure on OPEC Mounts
Grant Smith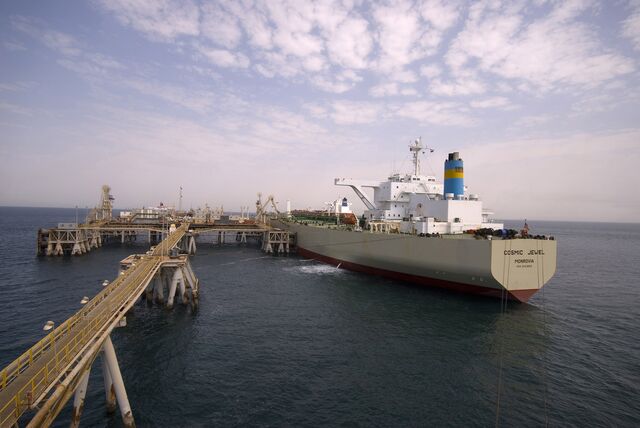 Oil prices could slide from a four-year low in the coming months as the market enters a period of weaker demand, increasing pressure on OPEC to reduce production, the International Energy Agency said.
Consumption will slide by about 1 percent to 92.6 million barrels a day in the first quarter from the current three-month period, the Paris-based adviser to 29 nations said in a monthly market report today. Barring new supply disruptions, the seasonal demand slump will push prices lower, it said. Members of the Organization of Petroleum Exporting Countries meet in Vienna to review their production target on Nov. 27.
"Supply-demand balances suggest that the price rout has yet to run its course," the IEA said. "Downward price pressures could build further in the first half of 2015. Pressure on OPEC to reduce production is building."
Oil collapsed into a bear market last month as leading OPEC members such as Saudi Arabia maintained production despite a global surplus triggered by surging U.S. shale supplies. The oil market is entering a "new chapter" as world economic growth fails to spur demand as much as in previous years, while technological advances make extracting new supplies easier, the IEA said.
Brent crude futures, used to price more than half the world's oil, slumped to a four-year low of $76.75 a barrel in London today.
The IEA reduced forecasts for the amount of crude needed this year and next from the Organization of Petroleum Exporting Countries as U.S. output drives record supply growth outside the group.
Demand Forecasts
The agency kept estimates for global oil demand for this year and next unchanged from last month's report. World fuel consumption will increase by 1.1 million barrels a day, or 1.2 percent, to 93.6 million a day in 2015 as the economic recovery gathers pace. Demand will increase this year by 680,000 barrels a day, the least in five years, to 92.4 million.
The IEA cut estimates for supplies needed from OPEC in 2014 and 2015 by 100,000 barrels a day for each year, to 29.6 million barrels a day and 29.2 million a day respectively.
Output from OPEC's 12 members eased by 150,000 barrels a day in October to 30.6 million a day. That leaves the group's production about 500,000 barrels a day higher than the average amount needed during this quarter, and 1.8 million a day more than the level required in the first quarter of next year.
Non-OPEC
Supplies from outside OPEC increased by a record of almost 2 million barrels a day in the first 10 months of the year, to reach 57.1 million a day in October. Production from the U.S. climbed to 8.9 million barrels a day. While lower oil prices may trim investment in U.S. shale oil production, this will "pale in comparison" with advances in the industry's productivity.
Still, output could be threatened in other producing nations prone to unrest when oil prices aren't high enough to cover social spending, the IEA said. Venezuela and Russia are among countries suffering as a result of oil's slump, it said.
Total oil inventories in the most advanced nations were above their five-year average in October for the first time since March 2013, according to the report. Stockpiles were at 2.72 billion barrels in September after an increase of 12.6 million barrels, a time of year when inventories typically decline.
Before it's here, it's on the Bloomberg Terminal.
LEARN MORE