Obamacare: Six Tools to Make You a Smarter Health-Care Shopper
By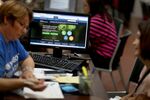 Obamacare turns patients into shoppers, but they often lack access to the clear, reliable information they need to pick the best health plan. Here are some places people can find help:
The Kaiser Family Foundation's Insurance Marketplace Calculator helps you estimate how much you might expect to pay for health insurance, based on your income and the plan prices available in your area.
Consumer Reports' Health Law Helper walks you through simple questions to help you understand your options for buying health plans, with links to marketplace sites and other information.
AARP's Health Law Answers explains insurance options for people of all ages.
The federal healthcare.gov website offers information about the marketplace and insurance coverage, plus a link to connect you with local groups that can assist with enrollment.
Enroll America, a nonprofit that promotes enrollment in the Obamacare marketplaces, also offers a tool to find local help and information about insurance.
For consumers residing in Illinois, a website called Consumers Checkbook offers some information about what consumers might have to pay for care with various plans, and it lets them search by doctors' names.
Before it's here, it's on the Bloomberg Terminal.
LEARN MORE