Obama Aide Podesta Calls Republican Climate Attacks 'Bogus'
Mike Dorning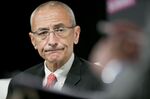 The adviser to President Barack Obama who negotiated a deal with China to cut greenhouse-gas emissions blasted Republican leaders' attacks on the agreement as "bogus."
Republican lawmakers have criticized the accord as a job-killer and the party's Senate leader, Mitch McConnell of Kentucky, charged that it would let China "do nothing" until 2030, when it has a target for reducing carbon emissions.
"That's a totally bogus charge, and I think they know it," Obama counselor John Podesta said in an interview with Al Hunt for the "Charlie Rose" program on PBS. "They claim not to be scientists, but I think they could at least observe the basic facts about an economy."
To meet its targets on time, China must do the equivalent of building "a nuclear power plant a week or putting 200,000 rooftop solar installations on a week," he said. "It's going to be in their five-year plan. We'll be able to observe it."
Podesta, a seasoned Chicago-born Democratic operative and veteran of Bill Clinton's White House, gave no ground to Republicans in the interview. He criticized as "irresponsible" party leaders' threats of poisoned relations if Obama proceeds with planned executive actions on immigration and predicted Republicans' skepticism of climate change would be "a losing issue" in the 2016 election.
Republican Takeover
Republicans expanded their majority in the House and won control of the Senate in a sweep of this year's midterm elections. Among the new party leaders: Senator James Inhofe of Oklahoma, who has called the idea of human-caused global warming a "hoax" and a "conspiracy" and is in line to be chairman of the committee responsible for environmental policy.
Rather than hurt employment, the climate-change agreement and other environmental measures taken by the Obama administration will, on balance, be "a job creator," Podesta said. Clean-tech industries grew even during the recession and are a sector of cutting-edge innovation, he said.
Obama, at a Group of 20 nations meeting in Brisbane, Australia, this weekend, planned to pledge $3 billion to a United Nations climate-change fund that's intended to help poor nations boost renewable energy and counter the ill effects of global warming. U.S. businesses will benefit from the program also, according to a White House statement.
"Businesses in this country are producing the new technology, levels of innovation," Podesta said.
India Talks
The Obama administration believes the U.S. deal with China will "really galvanize" international negotiations ahead of a United Nations conference on climate change in Paris next year and encourage "other countries to step forward with ambitious agreements," Podesta said.
Podesta said he hopes India, another major emerging economy, will be "spurred to further action" by China's commitment to reductions in greenhouse gases. He said the U.S. has made some progress in negotiating with India on reductions in hydrofluorocarbons, gases used for refrigeration and air conditioning that have been linked to climate change.
Though Podesta has recused himself from the Obama administration's deliberations on approval of the proposed Keystone XL pipeline because of his past public opposition to the project, he indicated Obama is likely to veto congressional legislation bypassing Obama's authority and directly approving the pipeline. He noted Obama's senior advisers have previously recommended a veto of similar legislation, while the administration's analysis of the project continues.
Congress Votes
The Republican-led House approved the legislation 252-161 today, and the Senate is scheduled to consider the bill Nov. 18.
Podesta predicted Republican opposition to measures that address climate change will be "a losing issue" for the party in the 2016 presidential election. While former Florida Governor Jeb Bush "recognizes that at least climate change is happening," most of the potential Republican candidates "don't believe in the science," he said.
As the White House and Republican congressional leaders square off for a confrontation over looming executive action to grant millions of undocumented immigrants a reprieve from deportation, Podesta criticized the opposition party's leaders for threatening that the measure would poison relations.
"It's an irresponsible position on their part to say that any one issue is going to block action on all other issues," Podesta said. He rejected criticism that Obama should avoid a confrontation on the issue, saying the president "has a responsibility to take action to improve this system."
Compromise Sought
A former chief of staff to President Bill Clinton during the final years of his presidency, Podesta said he hoped congressional Republicans would be willing to reach compromises as Obama's tenure nears an end.
Clinton continued to reach deals with Republican Party leaders even after House Republicans voted to impeach him, Podesta said.
"We found a way, and the Republicans came back, and we got some things done in the last couple of years," Podesta said. "I hope that the Republicans once again, once they stop holding their breath and turning blue over executive action on immigration reform, will come back and find places where we can work together."
Excerpts of the interview will air this evening on "Charlie Rose: The Week" on PBS stations; the full interview airs on "Charlie Rose" later tonight on PBS and will be rebroadcast on Bloomberg Television.
Before it's here, it's on the Bloomberg Terminal.
LEARN MORE