The NBA Gets Cozy With a New Breed of Risk-Free Gamblers: Daily Fantasy
by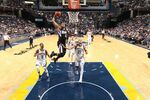 It's been a busy week for legal gambling in the National Basketball Association. Adam Silver, the league's first-year commissioner, penned a New York Times op-ed favoring the expansion of legalized sports betting just a day after revealing a partnership with FanDuel, the biggest player in daily fantasy sports. Technically the two events are unrelated, as U.S. law doesn't see daily fantasy sports as a form of gambling. In practical terms, however, the NBA's embrace of gambling and daily fantasy go hand in hand.
For daily fantasy players and gamblers, the appeal of both pursuits is essentially the same: Try to win money by anticipating the twists and turns of sporting events. Daily fantasy participants select players from different teams in a given night's slate of games, trying to assemble a group that outperforms other fantasy contenders. The winner gets a set prize, which can range from a few bucks to $1 million.
 
Here is how Bob Voulgaris, once described as the "world's top NBA gambler," reacted to the league's deal with FanDuel:
Newsflash to the NBA – DFS is actually gambling.

— Haralabos Voulgaris (@haralabob) November 12, 2014
That practical resemblance, combined with the federal crackdown on online gaming in 2011, set the conditions for a recent $160 million flood of funding into the daily fantasy industry. The money is funneling into the coffers of sports leagues and teams through marketing deals.
Professional sports initially hesitated to associate with the young industry full of gambling refugees. Less than two years ago, for instance, Major League Baseball executive Bob Bowman described daily fantasy as "akin to a flip of the coin, which is the definition of gambling." A year later, MLB offered an "official mini fantasy game" sponsored by DraftKings, FanDuel's top competitor. In October, the New England Patriots became the first National Football League team to make a deal with a daily fantasy site. And earlier this week the National Hockey League announced its partnership with DraftKings.
The NBA's deal with FanDuel includes an equity stake in the company. "We think the category is emerging," says Sal LaRocca, NBA president of global operations and merchandising, "and with an equity position we have a stake in the overall success."
It's not only the rush of money—and legal cover—that have made leagues and teams suddenly comfortable with a new kind of fantasy action. Daily fantasy differs from classic gambling in ways that make it much less vulnerable to corruption. "It's not something that we viewed as an issue," LaRocca says of daily fantasy players attempting to influence NBA games. "The idea that it would come up in a daily fantasy game just doesn't seem remotely plausible." FanDuel Chief Executive Nigel Eccles echoed that sentiment via e-mail: "Unlike sports betting, it is impossible to rig a game to improve your chances of winning a fantasy contest."
When the federal government carved out an exception for fantasy sports in the Unlawful Internet Gambling Enforcement Act, the 2006 law that banned electronically processing payments for sports bets, it defined fantasy as contests determined by the accumulated statistics of multiple real world players in multiple real world games. Fantasy games can't be based on team wins or losses or final scores, and they can't be based on a single athlete's performance.
Rigging any single NBA game would offer no guarantee of winning a daily fantasy contest. In the games that FanDuel and DraftKings offer, contestants pick players to do well. Paying a player to tank would be of little use (not to mention that most professional athletes now make so much money that daily fantasy payoffs aren't worth the risk). Theoretically, someone could pay a referee to be unfairly harsh on a star player and avoid that player in daily fantasy contests, but the marginal advantage would be hopelessly slim.
FanDuel doesn't even bother monitoring for unusual activity, because there is nothing to look for. "With fantasy sports you are only looking for players to do better than expected," writes Eccles. "That isn't really something that can be rigged."
The genius of daily fantasy is that it functions like gambling for its players, but not for potential match fixers. For leagues, this means they can reap the benefits that come from sports gambling—nothing makes a dull game interesting like money on the line—without the associated risks.
Before it's here, it's on the Bloomberg Terminal.
LEARN MORE