Meet the Bloomberg LP Soup Nazi
Introducing the first episode of "Noshin' With Negrin," and the fastest-talking soup aficionado in the world, Matt Negrin.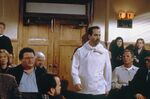 His name is Matt Negrin, and he's a writer at Bloomberg Politics. He's also a big fan of the free soup here at the company—most of the time.

Important note: All opinions expressed by Matt Negrin on soup are solely his opinions and do not reflect the opinions of Bloomberg LP.