Macy's CEO Lobbies White House, Friends to Stave Off Port Strike
Lindsey Rupp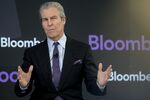 Macy's Inc. Chief Executive Officer Terry Lundgren said he's increasingly concerned about the threat of a labor strike at West Coast ports, so he's enlisting retail heavyweights to lobby the White House for help.
After Lundgren and the National Retail Federation urged President Barack Obama to take action, the executive said he also sought the help of friend Doug McMillon, the CEO of Wal-Mart Stores Inc.
"There's a big strike potential on the West Coast right now, and it's Christmas," he said at Bloomberg's "The Year Ahead: 2015" conference in Washington. "It's a holiday period -- we need the inventory to get through the system. This is the wrong time to slow down work."
The ports of Los Angeles and Long Beach in Southern California serve as the nation's biggest container hub, meaning a labor stoppage could cripple the supply of goods to retailers. Already, labor negotiations, equipment shortages and rail delays have slowed shipments through the ports. Unions and management have been mired in talks since their six-year contract expired on July 1.
Lundgren, 62, said NRF President Matt Shay has lobbied the president on the issue, aiming to spur labor and management to hammer out a deal. Wal-Mart's McMillon also contacted Valerie Jarrett at the White House to move things along, Lundgren said. Frank Benenati, a White House spokesman, didn't immediately respond to an e-mail seeking comment. Wal-Mart, the world's largest retailer, didn't have an immediate comment.
'Radar Screen'
"It's not on everybody's radar screen," Lundgren said of the strike threat. "This could take $1.9 billion of GDP out of America per day if we have a dock slowdown."
In 2002, then-President George W. Bush invoked the Taft-Hartley Act to reopen ports after a labor dispute. A new strike or lockout would apply to all 29 West Coast ports -- not just L.A. and Long Beach -- which collectively account for 43.5 percent of cargo volume to the U.S.
Macy's, the largest U.S. department-store chain, said this week that it's already seen delays in getting products to shelves. While the company expects the holdups to continue, the slowdown hasn't yet had a significant impact, Macy's Chief Financial Officer Karen Hoguet said on a conference call.
The port dispute is just one example of a situation where business leaders need to get involved, Lundgren said, "so we can keep things moving in the right direction -- all in the effort of making this a better performing economy."
Before it's here, it's on the Bloomberg Terminal.
LEARN MORE