Jeronimo Martins Bets on Big-Box Prices in Polish City Centers
Henrique Almeida and Konrad Krasuski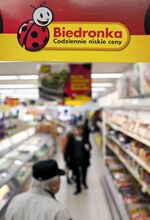 While the new Biedronka supermarket on Nowy Swiat street is smack in the middle of one of Warsaw's more exclusive retail zones, shoppers are still coming in for what's made the brand famous in Poland: cheap prices on food, wine and household goods.
With its decision to upgrade existing hard-discount supermarkets in towns and suburbs and add smaller stores in high-rent urban districts, Biedronka, the Polish unit of Portuguese retail giant Jeronimo Martins SGPS SA and the country's top food seller, has signaled that it wants to tap mid-to-high income consumers in city centers to improve margins as food prices fall and competition heats up.
"I come here with my friends because it's close to the university and the products are cheap," said Jakub Ferdynand, a Warsaw University law student. "I don't shop at hypermarkets outside the city because it just isn't convenient."
Biedronka's bet on urban districts may help it address what Grzegorz Laptas, a director at PricewaterhouseCoopers LLP consultancy, calls "a strategic problem with meeting clients' needs, which are convenience and low pricing," Laptas said in an e-mailed response to questions.
A move to lower-scale, more central locations in urban markets could also help retailers like Biedronka offset the impact of Poland's first bout of deflation since the early 1980s, the unit's Chief Executive Officer Pedro Pereira da Silva said in an interview yesterday. About 80 percent of the 300 new stores Biedronka plans to open through 2017 will be in city centers, Pereira da Silva said.
Purchasing Power
"Urban clients have more purchasing power, and that's an opportunity for Biedronka," the CEO said.
The company, which is targeting 11 billion euros ($14 billion) in sales in Poland by 2017 compared with 6.2 billion euros in the first nine months of this year, will invest as much as 800 million euros in the country through 2017, with about 40 percent going to upgrade stores, it said yesterday.
The retailer needs to make sure it has the right stores for its urban locations, said Jose Rito, an analyst at Banco BPI in Portugal.
"The old hard-discount format won't work in the city center where consumers are more sophisticated," Rito said. "Biedronka has to develop smaller stores and offer more products and services if it wants to succeed in big cities."
At its international investors day yesterday, Biedronka laid out plans for attracting younger, freer-spending urban consumers, following bigger European retailers who've begun targeting urban customers with smaller stores in central locations.
Tesco, Carrefour
"Tesco and Carrefour are two brands that initially came in with big-format hypermarkets and have been moving to city centers with smaller stores," said Jakub Krawczyk, an analyst at Raiffeisen Centrobank in Vienna. "People are less willing to travel from the city center to the outskirts to shop these days. It's a matter of convenience." Tesco Plc and J Sainsbury Plc in the UK and Carrefour SA in France have been reducing investment in larger stores while pumping more money into convenience stores and online operations.
Family-controlled Jeronimo Martins, which began in 1792 as a single shop in Lisbon selling corn and wine, is Portugal's biggest listed retailer, with a market value of more than 5 billion euros. In the 1990s the company chose Brazil, a former Portuguese colony, and Poland, then just opening up to foreign investment, as its first markets for expansion.
While Jeronimo Martins found the going difficult in Brazil -- former Chief Financial Officer Alan Johnson likened the move to trying to digest an elephant in one go -- Polish operations have proved more successful.
After the retailer pulled out of Brazil in 2002 it focused on Poland, where it had bought a cash and carry chain in 1995, later shifting to a no-frills approach. Jeronimo Martins bought Biedronka in 1997 and has promoted the brand's "everyday low prices" while building up from 243 shiny-yellow stores, mostly in smaller, hardscrabble cities, to a network of 2,527 stores and about 17 percent of the market.
With economic and social change in Poland, the company says it now has to change its approach to keep up.
"Poland has become more urbanized and Biedronka has also become more urban," Pereira da Silva said. "Urban consumers require additional offerings."
Before it's here, it's on the Bloomberg Terminal.
LEARN MORE