James Lebenthal, Who Sold Municipal Bonds to Masses, Dies at 86
Heather Burke and Laurence Arnold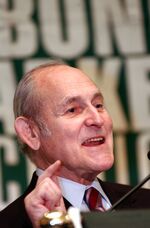 James Lebenthal, the chairman emeritus of Lebenthal & Co. who became the best-known bond salesman in the U.S. by using radio and TV ads with catchy taglines such as "Bonds are my babies," has died. He was 86.
He died yesterday at New York-Presbyterian Hospital in Manhattan, his daughter, Alexandra Lebenthal, said in an e-mail. The cause was a heart attack.
Part salesman, part proselytizer, Lebenthal turned the phrase "municipal bonds" into common usage, at least among New Yorkers.
"I am down to my fingertips a municipal bond salesman," Lebenthal wrote in a 2009 book about his craft. "I deal in an investment that has had an historic cumulative default rate, up to September 2008, of one-tenth of 1 percent for every municipal bond rated from Aaa to C by Moody's, and three-tenths of 1 percent for every municipal bond rated AAA to C by Standard & Poor's. Municipalities can't simply pull up stakes whenever the going gets tough. Governments have to stay in business."
In the 1960s, following a career as a filmmaker, journalist and copywriter, Lebenthal joined the brokerage firm founded in 1925 by his parents, Louis and Sayra. They sought to sell tax-exempt municipal bonds to New York City residents who could afford to invest only about $1,000.
Through the ads, many of which he starred in, Lebenthal shared his belief that tax-free bonds were a sound investment for the low or middle-income individual investor -- "the little guy," as Lebenthal called his primary customers.
'Poor People'
"My clients are poor people with money, and there are plenty of them," he said in 1989.
One of Lebenthal's commercial campaigns centered on building New Yorkers' respect for public works through the company's "Built by Bonds" slogan. He hoped this reverence would lead investors to buy the bonds that backed them.
Those commercials showed Lebenthal as a patrician Wall Street executive extolling the virtues of the city's subways and sewers. In one commercial, Lebenthal, clad in an expensive gray suit, tossed garbage bags to promote a trash incinerator.
"He's taken a faceless commodity and put a face on it -- a goofy one," advertising executive Donny Deutsch told the New York Times in 1993.
Lebenthal told the "Bloomberg Surveillance" radio show in November 2011 that he was still reporting to his office every day, "Saturdays and Sundays included," at age 83.
"Well," he added by way of explanation, "it is my hobby."
Staying True
Even after the financial crisis of 2008 raised concerns about government borrowing -- with analyst Meredith Whitney predicting that there could be 50 to 100 "sizeable" defaults in the municipal-bond market in 2011 -- Lebenthal remained a believer.
Where corporations "exist at the mercy of the market," he said, "municipalities and essential utilities exist in perpetuity. They have to survive. And it is always touch and go, but they always have to do whatever it takes to stay in business."
James Avram Lebenthal was born in New York City on June 22, 1928, three years after his parents founded Lebenthal & Co. He graduated from Princeton University in New Jersey in 1949 with a degree in political science.
He then headed to the West Coast, shunning the family business for a journalism career. He covered Hollywood for Life magazine until 1955, then worked for a San Diego television station and at NBC. He moved into film, making a documentary about otters for Disney. He was nominated for an Academy Award in 1958 for the short film "T Is for Tumbleweed."
Mother's Stance
He said his mother, the firm's president, was careful never to pressure him to come back to the fold.
"Throughout my travels (and her travails), she never pleaded, never needled, never twisted my arm to stop the nonsense and come into the family bond business," he wrote in "Confessions of a Municipal Bond Salesman," his 2006 memoir. "Because she didn't have to. She knew that just knowing Lebenthal & Co. was there would eventually wear me down."
Lebenthal returned to New York in 1960 and worked as a copywriter at Ogilvy & Mather before finally settling in for good at the family firm, bringing with him public-relations skills and a love of show business that he would use to sell bonds.
In retrospect, Lebenthal said his foray into the arts gave him the skills he used to demystify "what was the most un-understandable investment in America (until I came along)."
Daughter's Role
When Lebenthal retired as the firm's president in 1995, his daughter Alexandra succeeded him and became the firm's spokeswoman.
Mony Group Inc., a New York insurance company, bought the Lebenthal firm for an estimated $25 million in 2001 through its Advest Group Inc. unit. Merrill Lynch & Co.'s 2005 purchase of Advest spelled the end of the Lebenthal brand name, which the Lebenthals, father and daughter, revived the following year with Lebenthal Holdings LLC, a wealth-management firm, and in 2007 with Lebenthal Asset Management in 2007.
As a hobby, Lebenthal enjoyed videotaping strangers while asking them offbeat questions. In retirement, he returned to filmmaking, shooting and editing short films about life in New York using a hand-held digital camera.
Lebenthal was on the board of MBIA Inc., a financial guarantor, and was a trustee of the Museum of the City of New York. He co-chaired the New York City chapter of the Rebuild America Coalition, which seeks to raise awareness of infrastructure issues and investment in public works.
In addition to his daughter Alexandra, Lebenthal had a son, Jim, and daughter, Claudia, with his wife, the former Jacqueline Beymer. She died in 2010 after a decade-long battle with Alzheimer's disease.
Before it's here, it's on the Bloomberg Terminal.
LEARN MORE