Hertz to Restate Results, Cut Costs as Pressure Mounts
Mark Clothier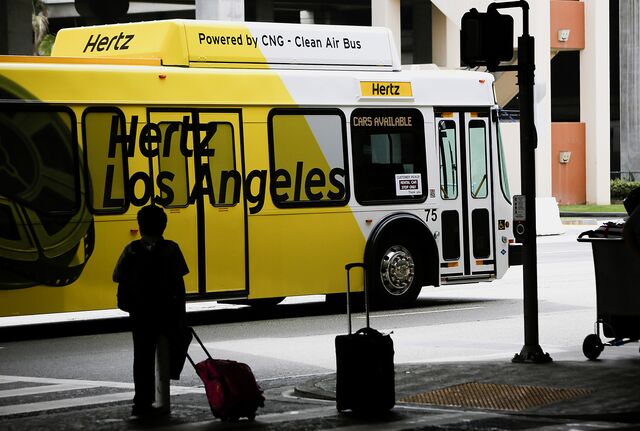 Hertz Global Holdings Inc., under shareholder pressure to hire a permanent top executive, said it will revise financial statements from 2011 through 2013 and continue a review that has found $87 million of errors so far.
The board's audit committee is "looking into the tone at the top" and management's influence over those mistakes. Hertz said it was advised in June that it was being investigated by the U.S. Securities and Exchange Commission. The rental-car company has found that its internal controls had at least one material weakness and that it had ineffective procedures as of Dec. 31, according to a filing , and the shares fell.
Hertz has been searching for a new chief executive officer since Mark Frissora resigned as chairman and CEO in September, as the company faced pressure from activist shareholders including billionaire Carl Icahn over its accounting issues. In September, Hertz agreed to replace some of its directors with Icahn associates, less than a month after the activist investor disclosed an 8 percent stake in the company.
"Companies with problems reporting accurately for one or two periods usually have much larger problems," said Erik Gordon, a business professor at the University of Michigan. "The news from them rarely gets better and sometimes turns out to be catastrophic. Lenders and investors have to guess at Hertz's condition and will have to guess for another year."
Shares Down
Hertz, based in Naples, Florida, fell as much as 14 percent, its steepest intraday drop in a year, and closed down
4.6 percent yesterday at $21.69. The shares have declined 24 percent this year.
Full-year earnings before interest, taxes, depreciation and amortization will be $1.3 billion to $1.45 billion, the company also said yesterday. Hertz in August had withdrawn its Ebitda forecast of $2.06 billion to $2.42 billion. It said yesterday that the cost of the accounting review, as well as higher-than-planned fleet maintenance, damage and depreciation expenses, residual value declines and a sped-up vehicle selling schedule, contributed to the lower forecast.
Gordon said Hertz should be put under a trustee-conservator to protect investor and lender interests until it can comply with its financial disclosure obligations.
"The SEC and the stock exchange seem to be doing nothing to protect investors," he said yesterday in an e-mail.
PricewaterhouseCoopers LLP was Hertz's auditor for all three years, according to filings. Kathryn Oliver, a spokeswoman, didn't immediately return a call seeking comment.
Hertz said the biggest errors it's found yet relate to accounting for non-fleet assets, allowances for doubtful accounts in Brazil, uncollectable damage fees and facility leases.
Big Contract
While Hertz said its car-rental revenue in the third quarter was about the same as a year earlier, the revenue per day of rental decreased 4 percent, because of an increase in discounted rentals to a large, contracted customer.
Hertz said it had a "rapid, substantial increase" in contracted bookings starting in June because of a new account. Demand under that contract was higher than it expected and tied up more of its fleet keeping cars out of the pricier leisure travel bookings, the company said.
The contract is with State Farm Mutual Automobile Insurance Co., which provides rental cars for customers whose vehicles are being repaired, said three people familiar with the contract. It obligates Hertz to rent cars at a range of $13 to $23 a day, depending on the vehicle's size, said two of the people, who asked not to be identified revealing private information. By comparison, a compact car for rent next weekend in Atlanta is available for $32 to $48 a day, according to Expedia.com.
Hertz and State Farm declined to comment on the account.
Cost Cutting
In April, Frissora told investors that Hertz won a large contract to be the sole provider of replacement rental cars for the customers of an insurance company. The strategy is part of Hertz's goal to increase revenue that wasn't tied to the swings of corporate and leisure travel.
Hertz also said it's initiating a $100 million cost-reduction program and increased by 45 percent the rate at which it's selling the highest-mileage cars in its fleet. By the end of October, the company had sold 40 percent of those vehicles it planned to sell in the fourth quarter.
The company plans to lessen its reliance on so-called risk vehicles and start buying more vehicles it will sell back to the manufacturer at agreed upon prices. Risk vehicles, those that are bought outright, will make up 70 percent of the fleet next year, compared with 85 percent this year, Hertz said. Frissora had touted the increased risk fleet as a positive for investors since the sale of such vehicles can be more profitable.
Risk Fleet
Hertz started running a risk fleet a few years ago to take advantage of the rise in used-car prices as Enterprise and Dollar Thrifty, which Hertz bought in 2012, had done successfully. Before that, it bought most of its cars from automakers that agreed to buy them back at a set age and price. By running a risk fleet, Hertz can profit when prices rise, but it has to deftly manage when to sell the cars or face significant potential losses, Maryann Keller, an automotive industry analyst and former Dollar Thrifty director, has said.
Hertz said it will ask some of its most senior lenders for an exemption from defaults because of the rental-car company's failure to report earnings on time. The company's bank debt includes a $1.37 billion term loan due in March 2018, according to data compiled by Bloomberg. The loan was quoted at 98.3 cents on the dollar yesterday, with prices declining from above par in January, the data show.
Interim CEO
The filing also spelled out compensation for interim CEO Brian MacDonald. He will get $1.1 million in annual base salary and a special cash incentive of $500,000, paid on an annualized basis. He had been running the company's equipment rental business, which Hertz plans to spin off. That won't happen until the accounting review is completed, which Hertz said it doesn't expect until mid-2015.
Scott Thompson, the former CEO of Dollar Thrifty, is the "clear and obvious choice" for Hertz, Jana Partners LLC said last week in a letter to Hertz's board.
Thompson joined Dollar Thrifty as chief financial officer before being promoted to CEO, helping lead the company from the depths of the recession, when shares traded below $1 to its acquisition by Hertz for $87.50 a share.
Before it's here, it's on the Bloomberg Terminal.
LEARN MORE