German Olympic Skier's Doping Ban Reduced by Sports Appeal Court
Christopher Elser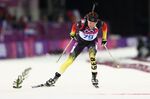 Sport's top court cut German Olympic cross-country skier Evi Sachenbacher-Stehle's two-year ban for doping to six months on appeal after the athlete proved that she failed the test because of contaminated supplements.
Sachenbacher-Stehle was banned from Feb. 17, when she tested positive for methylhexanamine at this year's Winter Games in Sochi, Russia. The Court of Arbitration for Sport today said it overturned the sentence on appeal, and she is free to compete after the six-month period expired Aug. 16.
"Having considered the parties' submissions and oral evidence, the panel has partially upheld Ms. Sachenbacher-Stehle's appeal, finding that the adverse analytical finding was due to contamination and that the athlete's degree of fault was minimal," the court said today in an e-mailed statement.
Sachenbacher-Stehle, 33, finished fourth in the women's biathlon 12.5-kilometer race, and was part of a German team that also finished fourth in the mixed relay biathlon in Sochi. She competed in three other races in the Winter Games.
She tested positive after the 12.5-kilometer biathlon, and had passed a test Feb. 11. At her Feb. 21 hearing, Sachenbacher-Stehle told officials that she was taking food supplements that were recommended by her nutritional adviser, and that she hadn't had the products tested for prohibited substances.
Before it's here, it's on the Bloomberg Terminal.
LEARN MORE