Georgian Anti-Graft Advocate Bendukidze Dies in London at 58
Helena Bedwell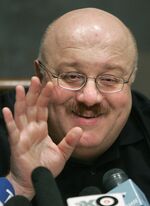 Kakha Bendukidze, a leading figure behind Georgia's anti-corruption efforts after the 2003 Rose Revolution, died in the Intercontinental Hotel in London, his sister Nunu Bendukidze said by phone. He was 58.
The cause of death isn't known. He underwent heart surgery recently in Switzerland, she said today. Actions are being taken to bring his body back home, she said.
Bendukidze, who amassed wealth in Russia during the 1990s, moved back to Georgia in 2004 and was appointed economy minister. He became government chief of staff under former President Mikheil Saakashvili in 2008. He also founded the Free University of Tbilisi and mainly invested in education.
"I am shocked and horrified," Saakashvili said on his Facebook page this morning.
Bendukidze said in an interview on Sept. 16 in Kiev that he wasn't feeling "at ease" enough to return home. He left Georgia during the summer after the government accused him of the "illegal privatization" of property belonging to his educational institution.
He was general director of OMZ Uralmash-Izhora Group, Russia's biggest producer of heavy machinery.
Bendukidze returned to Georgia following the 2003 Rose Revolution that swept Saakashvili to power. He sold his OMZ stake in 2005.
Before it's here, it's on the Bloomberg Terminal.
LEARN MORE